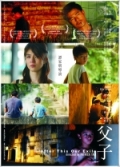 After This Our Exile
Rating: 7/10
Year: 2006
Genre: Drama
Director: Patrick Tam
Cast: Aaron Kwok, Charlie Yeung, Goum Ian Iskandar, Kelly Lin, Valen Hsu, Qin Hailu, Tsui Tin-Yau
After This Our Exile is a depressing, but meaningful movie. I sincerely feel sympathetic towards the little boy who has to suffer because of the broken family. The message conveyed in the movie is that children do need attention, education, care and love and it is the parents' responsibility to take care of their children.
The setting is symbolic, spiced with moving music. Many scenes in the movie were filmed in Malaysia and they are as visually arresting as those of another movie, Isabella, which was filmed in Macau. Apart from the beautiful scenes, the music is nice, but the one in Isabella is better.
The director tries hard to make a realistic film look artistic and symbolic. However, it turns out a bit awkward and pretentious, though some realistic scenes are touching. It is really difficult to strike a balance between realism and aestheticism. In this connection, the director of Brokeback Mountain has done a great job. The film looks not only symbolic and beautiful, but also real.
The acting is fabulous! Aaron Kwok is able to act naturally and his acting moved me to tears several times. Charlie Yeung performs quite well, though both actors underact their roles as a married couple at the very beginning of the movie. The little star, Goum Ian Iskandar (Ng King To) is as adorable as Charlie Trairat starring in the Thai films, My Girl and The Dorm. He has great potential as an actor.
One scene at the end of the film is shocking and there are some sex scenes in the movie, so I think the film is not suitable for children and those who don't want to leave the theatre with a heavy heart. From my point of view, parents and those who love artistic movies and drama should go watch it.
Reviewed by: Kenji Chan