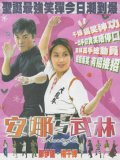 Anna in Kungfu-Land
Rating: 8/10
Year: 2003
Genre: Comedy
Director: Yip Wai-man
Cast: Miriam Yeung, Ekin Cheng, Denise Ho, Wong You-nam
Minor spoiler alert!
With the success of movies like Infernal Affairs 2, Lost in Time and Running on Karma, it seems that the quality of Hong Kong movies has been improving since the second half of 2003. However, the last movie of the year, Anna in Kungfu-Land, didn't really succeed in keeping up with this race for quality.
Perhaps it isn't quite appropriate to call it a crude job, as the production crew did afford to travel to Japan to do some of the shots, and special effects are also used to enhance the fight scene, the movie is just totally disappointing as the poor script and mediocre acting are really distracting and drive the audience away.
The story of the film can be roughly divided into two parts that are proceeding in parallel. The first part is about Anna (Miriam Yeung)'s participation in the Kung Fu tournament, while the second is the triangular love affair among Anna, the tournament organizer Ken (Ekin Cheng) and Ken's girlfriend Chau (Denise Ho). The Kung Fu tournament is somewhat similar to the one in Star Runner, but in a more comical style. Therefore fans of martial art shouldn't really expect too much from the fancy fight scenes that are mostly intended to make fun instead of showing serious action choreography. Just like the tournament, the love affair is also crazy and absurd. None of the relationship is convincing at all. It is as if most of the scenes are created with the assumption that the characters either are mentally handicapped or don't like to think about the consequence at all before they attempt to do something.
It is hard to generalize a theme from this movie. Although elements of action, humor and romance are all packed together. there isn't really a focal point you can grap from any of the scenes or dialogues. The only observation I got from the initial viewing is the continuing promotion of the "weak male and strong female" concept. Anna is without doubt a strong character. As a martial artist, she is not only one of the participants of the tournament, but later also becomes the protector of the glory and reputation of Shaolin Temple; As a lover, she is firm about what she wants. Compared to her, Ken is rather weak. At work, he doesn't exactly know what he is doing; At home, he cannot make up his mind and choose the girl he wants. I am quite obvious that if Chau doesn't take "action " at the critical moment, Ken would still be stuck up in the triangular relationship at the end...
Miriam Yeung's acting isn't as blatant as before, but it doesn't mean any solid improvement, it is just that she doesn't laugh out loud that much as she did in his previous comedy movies. Ekin Cheng's performance is also lackluster. Cheng has been in quite a lot of movies in recent years, but unfortunately, since Running Out of Time 2, it seems that none of his role is impressive or at least is able to catch my attention, including the character in this movie.
As I have mentioned above, Anna in Kungfu-Land is an action, humors and romance all-in-one flick. If you don't care about/or can tolerate how silly the characters are, or you are crazy about Miriam Yeung, you'll probably find it funny. Otherwise, it is definitely not a bad idea to simply skip it.
Reviewed by: Kantorates