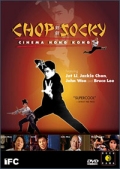 Chop Socky - Cinema Hong Kong
Rating: 8/10
Year: 2005
Genre: Documentary
Director: Ian Taylor
Cast: Jet Li, Jackie Chan, John Woo, Lau Kar-leung, Gordon Liu, Sammo Hung, John Chiang
Just as its title suggests, Chop Socky - Cinema Hong Kong is a documentary about Hong Kong cinema, or to be a bit more specific, Hong Kong action cinema. With a running time of about 55 minutes, it provides an interesting glimpse of the heyday of Hong Kong action cinema in the 70s.
Made for Celestial Pictures, that is, one of the distributors of the late Shaw Brothers DVD, one can expect that a great part of the documentary would be devoted to Shaw Brothers movies. And in fact, with the mass output of action movies (first wuxia, and later kung-fu) from the 50s to early 80s, SB is no doubt one of the most influential and leading film production and distribution companies of action cinema in Hong Kong. Its contribution is so enormous that it is totally reasonable and inevitable to focus mainly on them when we talk about the golden age of HK action cinema. But certainly, there is always something more. How can a chronicle of HK action cinema be complete without the inclusion of the legendary Bruce Lee and the acrobatic master Jackie Chan? Luckily, filmmaker Ian Taylor also manages to shed some lights on these two figures, brief but concise, in addition to his delineation of the SB history.
The content of the film is mainly composed of archival footage from the SB film library and exclusive interviews with notable filmmaking figures like Jet Li, Jackie Chan, John Woo, Lau Kar-leung, Gordon Liu, Sammo Hung, John Chiang, and more... It begins with a visually captivating introduction of its subject, and then harks back to its origin, that is, the B&W days in the 30s. From there it slowly depicts the history of SB, everything, from King Hu's wuxia genre to the ultra-violent movies of Chang Cheh and the traditional kung-fu approach of Lau Kar-leung, is talked about, while interviews related to the subject matters appear in the intervals here and there. Overall speaking, the content is organized neatly and even if one has no prior knowledge of HK cinema, it is unlikely that he will get lost in the middle of viewing.
What I like about this documentary is that the filmmaker does actually show that he is familiar with his subject. I have read countless articles and see various documentaries about HK cinema, but some of them are really disappointing as they are merely seeing HK cinema from a foreign perspective. The information is superficial and there is nothing new you could learn from it. On the contrary, One of the merits of Ian Taylor's Chop Socky - Cinema Hong Kong is that it succeeds in bringing the genuine aspect of HK action cinema to the audience. It is not a study from the outside. Even for advanced learner like me, I was still able to be enlightened by it in some ways.
Apart from the SB films footage, the biggest asset of this documentary is certainly the new interviews. Although they are rather brief (perhaps I just want more!!), they do get right to the point. It is especially interesting to see master Lau Kar-leung introducing the tradtional weapons or Gordon Liu demonstrating the three-camera filming style. Others like Jet Li, John Woo and Jackie Chan are also generous to share anecdotes of their filmmaking experience. Furthermore, it is glad to see that these interviews are done in Cantonese or Mandarin (with burnt-in subs), the native language of the actors and filmmakers. Even though we all know that people like Jet Li, Jackie Chan and John Woo can speak English, it is always nice to see them talking in their mother tongue, since they can certainly be more outspoken and speak without any cultural barrier in that way.
In general, Chop Socky - Cinema Hong Kong is definitely worth a look for HK action cinema lovers as well as those who have no knowledge but want to learn more about it. Nevertheless, HK cinema is not only about action and kung-fu, and so I certainly hope one day there will be more documentaries or studies on HK cinema in a wider scope.
Reviewed by: Kantorates