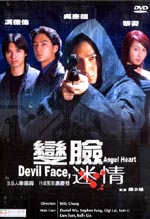 Devil Face, Angel Heart
Rating: 4/10
Year: 2002
Genre: Action
Director: Bill Chung Siu-Hung
Cast: Daniel Wu, Gigi Lai, Stephen Fung, Lam Suet
Billy Chung Siu Hung is the kind of director who always give you surprise. His previous films Last Ghost Standing, Undercover Blues and Esprit D'Amour are all full of inventive ideas. I did have very high expectation for Devil Face, Angel Heart. As a matter of fact, this film did surprise me a lot, but it is not surprisingly good, unfortunately to say, it is rather a big disappointment.
Long (Daniel Wu), a hitman with a serious deformed face, and his brother Kwan (Lam Suet) work for a crime lord Dinosaur. On a secret mission to Taiwan, someone sets Long and Kwan up. While Kwan is killed, Long is saved by a local girl. Her deformed face is also cured. Back to Hong Kong, Long investigates on his own, hoping to find out who the mastermind is. The story itself is very commercial and can become entertaining if it is handled properly. However, I think Chung Siu Hung was probably smoking weed during the production, the whole film just runs out of control and becomes a softcore porno flick that reminds me of Jack Smith's famous and outrageous Avant Garde classic Flaming Creatures.
The story is extremely weak and empty. A great portion of the film is dedicated to sex scenes. Gigi Lai is a sex machine in this film (But sorry to inform you that there is no nudity at all). The sex scenes are exceedingly slow-paced. Instead of arousing your sexual appetite, they just lure you to fall asleep. Both the director and the actors seem to be working under strong influence of drugs. If all the prolonged sex scenes are deleted, I am sure this film can end in 30 minutes.
In terms of the main plot, Stephen Fung's character is excessive. He does not drive the plot or interact with Daniel Wu's character in any form at all. The script simply fails to take advantage of this character. The director also fails to strength and develop the theme, "Don't trust anyone", progressively. Ok, we have the premise here, "dont trust anyone", then what? Why shouldn't we trust anyone? How should we react to this theme? What is the redeeming value? The director is too lazy to explore it. Despite the change of his physical appearance, the character of Long lacks growth. The ending does not bring us a resolve. To me it is even an anti-climax.
Chung Siu Hung loves to employ a lot of close-up to capture the emotions of his actors, therefore it is essential for an actor to convey the facial emotions precisely. In this regard, Daniel Wu passes the test. What I like about Wu is that, unlike Nicholas Tse or Eason Chan who are singer-actor and always fail to spend all their time on either field, Wu is a professional actor and he concentrates on his acting career wholeheartedly. In this way, he does not have to share his mind with singing or other works, which is really helpful and effective for an actor to grow and master his craft.
Devil Face, Angel Heart is a degradation of Billy Chung Siu Hung's directing effort. I really wish it is only a one time mistake. Otherwise, I think I probably need to reevaluate his ability and make sure I didn't overestimate his potential.
VCD (HK version) - Just an usual VCD transfer you can expect. Nothing much, nothing less.
Cool guy(s) - Daniel Wu
Reviewed by: Kantorates