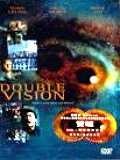 Double Vision
Rating: 8/10
Year: 2002
Genre: Suspense
Director: Chen Kuo-fu
Cast: Tony Leung Ka-fai, David Morse, Rene Liu, Dai Li-zen
As an Asian film lover, I am little embarrassed to admit that my knowledge of Taiwanese cinema is actually quite brief. My experience was limited to art house movies like Hou Hsiao Hsien's City of Sadness and Edward Yang's A One and A Two. So it was quite a surprise ( and certainly, a present one) to see the release of Double Vision, a highly commercial and successful production that was well received at the box office, both in Taiwan and Hong Kong.
Being a detective thriller movie, Double Vision tells a story of suspense that involves supernatural phenomenon. Several dead bodies have been found and their cause of death cannot be explained by science. FBI agent Kevin Richter (David Morse) is invited to Taiwan to join the investigation, in which he has to team up with local officer Huang Huo-tu (Tony Leung Ka-fai). As their investigation proceeds, they soon discover that these murders are somehow related to a clandestine religion that believes in the Daoist concept of immortality... This genre is nothing new to modern moviegoers. In Hollywood, we have Seven, X File, The, and in Asia, there are Another Heaven and Tell Me Something that deal with a similar subject. The narrative structure of Double Vision is quite similar to its counterparts. Director Chen Kuo-fu's approach is more or less the same. Mystery is unravelled slowly during the investigation. But at the same time, the viewers are kept baffled as parts of the puzzle are never explained in the movie. Having said that, it doesn't mean this movie is not worthwhile, contrary to this, it is actually a very enjoyable movie, because Chen's craftsmanship is excellent.
As the director, as well as the scriptwriter and editor, Chen's script is full of interesting ideas. The employment of Daoist theory of immortality strongly enhances the oriental feeling of the movie. Not only is it an intimate subject to Chinese audience, it can also trigger the curiosity of foreigners. Apart from the major attraction, the sub-plots are also captivating. Each character is well designed. The story spends quite some time on Huang Huo-tu's relationship with his family and his partnership with Kevin Richter. Although these characters are quite typical (in terms of their backgrounds and temperaments), they are not flat at all. The interactions among these characters look quite vivid and dynamic. This detailed and sophisticated depictions of the characters greatly enrich the dramatic quality of the movie. In terms of the technical aspect, Chen is good at creating a chilling and cold atmosphere for the movie that viiewers would find it easy to soak in.
Tony Leung Ka-fai as the depressed policer officer is extraordinary. With his careful study of the character, he doesn't seem to encounter any difficulties bringing out the richness and profundity of Huang Huo-tu. From the marriage crisis with his wife to the cooperation with the American agent, he is always the focus that captures the eyes of the audience. It was a pity that he didn't manage to win the best actor award for his role in this film. Hollywood actor David Morse's participation in this Taiwanese movie is also a present surprise. One good thing about this character is that he actually fits in the story. One of the usual mistakes Asian filmmakers tend to make when dealing with foreign actors (especially the renowned ones) is, they always make these stars the focus even if they are not the protagonists, or the story is not made to do so. In this film, Morse is appropriately placed in the movie that actually serves his function efficiently, but not being merely left as a talking point.
Double Vision is a notable Taiwanese production. Not only is it highly entertaining, it also shows the extent of Asian filmmakers. With proper handling and sufficient resources (this film was invested by Columbia Pictures), one ought not question Asian filmmakers's ability of achieving the level of professionalism their Western counterparts can do.
Cool guy(s) - Tony Leung Ka-fai, David Morse
Reviewed by: Kantorates