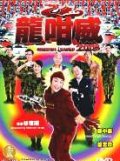 Dragon Loaded
Rating: 4/10
Year: 2003
Genre: Comedy
Director: Vincent Kuk
Cast: Ronald Cheng, Stephy Tang, Cheung Tat-ming, Sam Lee, Eric Tsang, Ken Chang
To be very honest, I really couldn't imagine how this film, Dragon Loaded, could gross more than HK$10,000,000 at the domestic box office. As a matter of fact, perhaps director Vincent Kuk and I are not set to the same "channel" (a common term in Hong Kong to describe people who have totally different aesthetic taste), I always fail to enjoy his comedies. No matter Gorgeous, Marry a Rich Man or Dragon Loaded, there really isn't any spectacular moment that can appeal me or make me laugh.
Similar to most of the recent nonsensical comedies in Hong Kong, the story of this film is quite pointless and episodic. Lung (Ronald Cheng) is a bum and he is forced by his rich father to become a policeman. At first, he cannot endure the strict training at the police cadet school and wants to give up, but then he comes across a beautiful cadet called Man-ching (Stephy Tang). Decided to win her heart, Lung changes his mind and manages to get through the training and become a real cop. As expected, this is a solo show specially tailored for Ronald Cheng. The entire plot revolves around his character Lung, with him in almost every scene. The pace of the film is quite fast, and a lot of materials are integrated together, there is hardly a silent moment where the characters have nothing to do. However, it doesn't mean the film is very entertaining, as most of the gags are either parodies of other films (e.g. Matrix, The, PTU or show heavy reference of other classical comedies, for instance, the nomenclature of the exotic weapons is a replica of what Stephen Chow does in Tricky Brains. There is no surprise at all.
The only part that is impressive is the depiction of the protagonist Lung. This character is a typical slacker and loafer. He never takes things serious and he always talks craps. On the one hand, it is a genuine representation of certain groups of teenagers and young people nowadays, what is funny, or I would say, sarcastic, is that, on the other hand, it also reflects the characteristics of a lot of pointless local comedies like this film. A lack of enthusiaism is obvious. The script of this film is not well planned or organized at all, it is as if the filmmaker fails to take filmmaking serious, and the dialogues are also mostly rubbish talk. Both of these traits resemble the levity of Lung perfectly. Certainly, I guess it is probably not the filmmaker's intention to bring out such a faithful yet ironic analogy.
With the success of My Lucky Star in early 2003, Ronald Cheng has soon made a perfect transformation from a pop singer to a comedy star. If you find his acting in My Lucky Star enjoyable, then you would definitely love his performance in this film, as he is given way more opportunities to exhibit his talent in comedy acting. Lead female Stephy Tang shows improvement as compared to her debut in Nine Girls and a Ghost and Feel 100% 2003, but still, I wouldn't call it satisfactory. Ken Chang (Sunshine Cop) is a promising new actor, however, in this film, he is merely a tool to enhance the success of Cheng. The same thing happens to great supporting actors like Eric Tsang, Law Ka-ying, Jim Chim, Sam Lee and Cheung Tat-ming, none of them is able to steal the spotlight from Cheng.
Apparently, Dragon Loaded is profit-oriented commercial effort produced in a rush and hectic manner. If you are looking for some instant laughters, this is probably what you would like to check out, otherwise, you certainly wouldn't miss a thing if you skip it.
Reviewed by: Kantorates