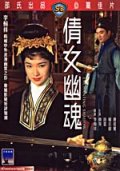 Enchanting Shadow
Rating: 8/10
Year: 1959
Genre: Horror
Director: Lee Han-hsiang
Cast: Chao Lei, Betty Loh, Yang Chi-ching, Tang Jo-cheng
For those who may not know, Lee Han Hsiang's Enchanting Shadow and Tsui Hark's A Chinese Ghost Story share the same Chinese title. Why? It is because ACGS is a remake of this 1959 classic.
Adapted from Po Chung-ling's novel, this is a love horror revolving around a sympathetic scholar and a beautiful ghost. Ning (Chao Lei) is a poor but benevolent scholar. One day, when he is lodging at an old temple, he comes across the enchanting ghost Chien (Betty Loh). Chien's initial mission is to lure Ning and drain his blood for her master Lao (Tang Jo-cheng), but she is soon moved by Ning's passion and decides to betray Lao. Lao is enraged and swears to kill them. Ning and Chien are forced to seek help from Yen (Yang Chi-ching), a sword master... Lee's version is quite different from Tsui Hark's remake. In this film, Lao is not a tree monster, she is just a phantom who doesn't share incredible power; Yen is also no longer a Taoist ghostbuster, similar to the original novel, he is simply a skillful swordman. Unlike Tsui Hark's cartoonish adaptation, Lee's version is more faithful to the original and he treats the story in a more traditional manner.
Lee Han-hsiang was an attentive filmmaker. From his films, you'll notice that he always tried to take care of everything to the finest details. The setting of Enchanting Shadow is extremely delicate. Although the film is shot in the studio, everything, from the buildings to the trees, is well built. Every prop is constructed and positioned in the right place. Lighting and sound effects are used wisely as well. Each character has his/her own color theme. Ning and Yen are always lit by the filmmaker using a red filter, which symbolizes a positive image, while Chien and Lao's faces are coated with a light green color tone to make them look cold and distant. Talking about the sound, different noises are captured. The wind, the door, the musical instrument and the song are mixed to create a solemn and gloomy mood for the movie. The realistic setting, together with Lee's brilliant camera angles, succeed in creating a captivating and poetic cinematic world that is plausible.
Obviously, Chao Lei is little overweighted to be the poor scholar Ning, but luckily, his facial expressions and postures match the traditional image of this kind of character. Betty Loh, who is always regarded as the goddess of period drama, is actually less glamorous than I expected. Yet she still makes a perfect portrayal as the tragic phantom Chien. The only problem (perhaps I shouldn't use the word "problem", since it is a tradition of Chinese people to deal with love affairs in a latent manner) is that the love affair between Ning and Chien is too slow and passive. You couldn't really feel the passion between the two of them throughout the film.
It is really hard to say whether Enchanting Shadow or A Chinese Ghost Story is better. Apart from the different approaches of the filmmakers, the production condition as well as the aesthetic standard are also changing over time. Therefore, it would simply be meaningless to do such a comparison. In short, try to forget ACGS for a while and treat Enchanting Shadow individually if you want to get the most out of it.
Reviewed by: Kantorates