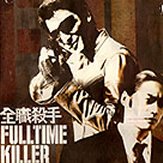 Fulltime Killer
Rating: 7/10
Year: 2001
Genre: Action
Director: Johnnie To, Wai Ka-Fai
Cast: Andy Lau, Takeshi Sorimachi, Kelly Lin, Simon Yam, Cherrie Ying
After the success of Running out of Time and The Mission, Johnnie To is regarded as one of the most important filmmakers in the late 1990s in Hong Kong. His inventive and ingenius filmic approach has rejunvenated the lifeless film industry. As a matter of fact, To's The Longest Nite and Expect the Unexpected are two of my all time favorites. Therefore, I have really high expectation on all his upcoming projects.
Although To has produced several illogical comedies (Wu Yen) last year that are totally different from his action flicks and were not welcome by many of his fans, he did return with his heroic series with Fulltime Killer finally. This film is adapted from a novel written by Edmond Pang (who is also a director - You Shoot I Shoot 2001). Identical to A Hero Never Dies, it is a story about two assassins. O (Takeshi Sorimachi) is the number one assassin in Asia. Tok (Andy Lau), on the other hand, is a rising newcomer. What is similar between them is that they are both top-notch gunfighters. Tok wants to take over O as the best assassin and he tries to accomplish his goal by challenging O overtly. Kelly Lin, a housekeeper, comes in the way and the three of them must find a resolve eventually. Yes, it sounds like a cliche. I am not sure why Johhnie To decides to shoot this story, but it seems that Hong Kong viewers are never tired of this genre.
Johnnie To understands what his fans want. This film contains every element that marks the success of A Hero Never Dies, Running out of Time and The Mission. For instance, the antagonistic relationship between the two protagonists is identical to those in A Hero Never Dies. Although the two protagonists are enemies, they admire each other. Both Andy Lau and Takashi Sorimachi appear extremely cool and handsome in the film. As usual, the female protagonist is always leading a boring life and longing for surprise and stimulation. The ending firework fighting scene is beautiful. Violence has turned to art. The short-lived but beautiful firework also parallels to the life of one of the characters in the film (spoiler?)...
Simon Yam has done a goob job in this film, his performance as the emotionally collapsed detective is vigorous. However, the depiction of this character is too surrealistic. It seems that Johnnie To tries too hard to create the tragedy for this character, that he is forced to sacrifice the logic of the story. Andy Lau's disappearance in front of Simon Yam in the police station is too irrational. After Yam suffers from his mental breakdown, it is hard to believe why he has to move to a dilapidated apartment and uses an obsolete typewriter to write his novel. A computer is not a luxurious item in the 20th century, why doesn't he choose to write on the computer? The decadence of this character is too blatantly portrayed.
Another problem of this film is the overdose of English dialogues. Some actors like Lam Suet are not fluent in English, it is really a torture for both the actors and the audiences to digest the English dialogues. I believe the mixing of English, Mandarin, Cantonese and Japanese dialogues does not internationalize the film as intended by the filmmakers, it rather weakens the performance of certain actors, hence, lowers the readability of the film.
In conclusion, this is not a bad film, but compared to Johnnie To's previous heroic series, it is definitely not a satisfactory work. Nonetheless, the teaming up of Andy Lau and Takashi Sorimachi plus the revival of the heroic genre are still able to produce a provocative and visually stunning viewing experience for the viewers.
VCD (HK version) - Acceptable image and sound qualities. I did not pay too much attention to the subtitles.
Cool guy(s) - Kelly Lin, Simon Yam
Reviewed by: Kantorates