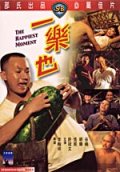 Happiest Moment, The
Rating: 5/10
Year: 1973
Genre: Comedy
Director: Lee Han-hsiang
Cast: Michael Hui, Tien Ni, Hu Jien, Gu Feng
Following the success of The Warlord in 1972, director Lee Han-hsiang teamed up with Michael Hui again and produced another farcical comedy The Happiest Moment in 1973.
Set in the chaotic period in the early 20th century, this film comprises of four short tales that are intertwined together. To make things easier, the first story is about an old millionaire and a hooker; the second one talks about a corrupted detective; the third story depicts an old woman receiving treatment in a hospital; while the last focuses on a haircutting apprentice and the haunted mortuary. What is special about this film is that the characters in the four short stories are played by the same group of actors, that is, Michael Hui is the old millionaire in the first story, and he is also the detective, the old woman and the apprentice in the other stories. The same also applies to lead female Tien Ni, Hu Jien and other supporting characters like Gu Feng, Wang Shin. Each actor plays at least three to four roles.
Similar to The Warlord, this is a parody that responds to contemporary social problems. Although the story is set in the past, it is obvious that the target of the mockery is present people and matters. However, sadly to say, the quality of the jokes doesn't seem to perfectly serve its purpose. Most of the gags are either too farcical or prolonged. They just don't work efficently, at least I couldn't find most of the supposed humorous scenes funny. The theme is also hard to get as the four stories are quite diverse. Each of them seems to carry a lot of messages at first glance, but on the other hand, none of these messages is presented in a decisive way that is easy or straightforward to grasp. The only part that is eye-catching and impressive is probably the brilliant performance of the cast.
Michael Hui's extraordinary talent in comedy acting is once again demonstrated. His four roles are quite different both in terms of the personality and the appearance. But no matter how extreme these roles are, they are just like a piece of cake for him. Among the four characters, the old woman and the apprentice are probably more refreshing to viewers, as the millionaire and the detective are actually a mixture of the general in The Warlord to a certain extent. There isn't anything new you could find in these two characters.
As an "unofficial sequel" (I would tend to call it that way due to the similarities of the structure, thematic element, cast and the release date of the film) to the the Warlord, The Happiest Moment is inferior in almost every aspect. If you have seen the Warlord and are expecting to see another episode of this acclaimed comedy, you would probably find it disappointing; Nonetheless, if you like this film, you should definitely check out its superior predecessor!
Reviewed by: Kantorates