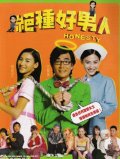 Honesty
Rating: 5/10
Year: 2003
Genre: Comedy
Director: Wong Jing
Cast: Richie Ren, Cecilia Cheung, Raymond Wong, Chapman To, Lee Shan-shan
After the horror trend last year, all of a sudden, light-hearted romantic comedy has become the favorite genre for Hong Kong filmmakers. Starting from the fall of 2002, more than half of the theatrical releases are romantic comedy, and more are coming every month. Sometimes I would wonder, do we really need so many romantic comedies?
Honesty is a mediocre production directed by prolific filmmaker Wong Jing. The plot is nothing new to most of us who have been brainwashed by series of light-hearted comedies in the past few months. The romance between the two protagonists simply follows the routine of first encounter, getting to know each other, breaking up and getting together again. There are quite a lot of laughing moments in the film, but most of these gags are merely recycled from old films. For instance, the scene when Richie Ren uses TV broadcasting to confess is a replica of the final scene in Love Me Love My Money, which was also directed by Wong Jing. So if you are a veteran moviegoer of Hong Kong cinema, you probably wouldn't find anything new or genuinely funny in this film. Nevertheless, as master of trash cinema, Wong Jing is always good at furnishing his materials. Even though nothing is really interesting, he was still able to oraganize it in a neat way and maintain a highly hilarious atmosphere throughout the film. Compared to the outrageously hollow Why Me Sweetie?, audience at least wouldn't think it is a total waste of time watching Honesty.
Just like most of the recent romantic comedies, Richie Ren's role is rather weak and impotent, while Cecilia Cheung is the agressive one. She initiates the romance and she is always the one taking control. To be honest, I was little disappointed with this "My-Sassy-Girliefied" construction of characters. I was definitely expecting more from the filmmaker. Wong Jing was always the trend maker in the past, from the Romancing Star series to God of Gambler, his films had always acted as a pioneer and influenced many imitators in the mainstream market of commercial cinema. But in these few years, most of his works like Love Me Love My Money were unable to grab the attention of both the audience and the filmmakers in a larger scale anymore. His latest work Color of the Truth was even accused of being a copycat of Infernal Affairs (Although it is not). Let's hope it does not signify the recession of Wong Jing's role in the film business.
Cecilia Cheung's performance is qualified. Her conveyance of emotions and bodily gestures are precise and phenomenal. Richie Ren and Raymond Wong are not bad. Their sense of humor is better than I expected. Raymond Wong is one of the most underrated new actors in Hong Kong. He has been in many movies (He is known as a regular in Johnnie To's movies) but was never actually able to impress the audience enough to make it big. Recently, he has finally got his first lead role in a major production Color of the Truth, but unfortunately, he was not the focus of the promotion, as big names Anthony Wong, Francis Ng and Lau Ching-wan were the ones capturing the spotlights. Chapman To as the goon-like character is getting annoying as he has played a similar role in too many movies lately.
It is easy to make a conclusion on Honesty. You wouldn't gain much viewing this movie, and you also wouldn't lose much skipping this movie. Let's hope Wong Jing's Color of the Truth would make a difference!
Reviewed by: Kantorates