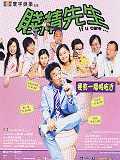 If You Care...
Rating: 6/10
Year: 2002
Genre: Comedy
Director: Kwan Shun-Fai
Cast: Eason Chan, Gillian Chung, Candy Lo, Patrick Tang, Rain Lee, Eric Kot
During the production stage, If You Care was said to be a parody to attack someone. The rumor is totally incorrect. This film is not a parody, nor is it a pointless comedy, it is in fact a meaninful comedy that carries a positive message.
Eason Chan plays Fai, an interior designer who is very mean to his friends and colleagues. His hostility makes him unwelcome by his colleagues that are headed by Gloria (Candy Lo). One day, an awkward car accident happens and soon after that Fai discovers that he is given a strange power. He can feel other's feelings by touching them with his injured hand...
The intention of the filmmakers is obvious. The story contains two positive messages behind. One is to teach teenagers to survive bravely under difficult condition; Another is to lecture them about the importance of being considerate. While it has a thoughtful premise of this film, employing popular idols Eason Chan and Gillian Chung is another wise strategy used by the filmmakers. What an idol says or does can create strong influence to teenagers. If you want them to listen, it is always better to promote through an idol than a solemn teacher. Moreover, it is also much easier to attract younger audience, the target group that is supposed to be lectured, to watch a film that is packaged with all the popular elements of their generation.
I would say, the approaching strategy of the filmmakers is very brilliant. But what about the conveyance of the message? A lot of comparisons are used in the film, for instnace, there are the purity of the small village and the complexity of the industrial city, or the uncontaminated Gillian Chung and the corrupted Rain Lee or Candy Lo, it seems that the filmmakers want us to return to nature. Instead of attacking or taking revenge all the time, you can have a more joyful life by living simply. However, such comparisons are not quite realistic. It is a fact that village people are no longer as pure as in the past now, it is hard to believe such places like "Rainbow Village" can still exist in Hong Kong nowadays. The character of Gillian Chung is also too perfect. She is so nice and tolerant, that makes me feel that she is more like an angel than a real person.
One of the biggest problems of this film is that the positive message is brought out in quite a dull and straigtforward manner. In many scenes, the dialogues are dry and boring, that it is like attending an insipid lecture at school. We know that the intention of the filmmaker is good, but if the message could be carried out in a more intriguing way, I am sure this film would appear much more interesting and entertaining. By that I do not mean the jokes in this film are very bad, there are actually some moments that are well presented, however, the portions of the jokes and the lecture just could not maintain a good balance.
Eason Chan is a good comedy actor. The way he distorts his face in this film reminds me of Jim Carrey in The Mask. Gillian Chung has also showed improvement. The nature of her character makes it easy to captivate the audience. Her gorgeous smile and her positive attitude is especially appealing. Compared to Gillian, Rain Lee's acting is quite horrible. I am not sure if it is the idea of the director or not, her performance has serious problem of overacting. It doesn't fit the style of this film at all. I am little surprised that Rain Lee actually agreed to take this role and act in such a weird way. Rain Lee is not a bad actress afterall, I hope she can find a better role in future films.
If You Care... is definitely not a poor film. It has certain impressive moments and interesting characters. If the director could refine the script and combine the entertaining and educational aspects in a more creative and engaging way, perhaps the outcome would turn out to be more rewarding.
VCD (HK version) - It is a letterboxed transfer. The image and sound qualities are quite good. The theme, Nex Year Today, performed by Eason Chan, is an excellent song. If you really care about it, you better get the DVD, since the song is played twice in the film, and the mood music throughout the film is also derived from this song.
Cool guy(s) - Eason Chan
Reviewed by: Kantorates