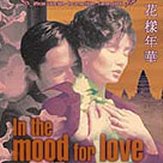 In The Mood For Love
Rating: 9/10
Year: 2001
Genre: Drama
Director: Wong Kar-Wai
Cast: Tony Leung Chiu Wai, Maggie Cheung, Lai Chen, Rebecca Pan, Paulyn Sun
A well balanced film. Produced in a well versed voice. In The Mood For Love is great cinema that does more than tell a story. It's a kaleidoscope; a collection of adult flaws, stories, and experiences that is told from one of the best storytellers.
Reviews in the past might have offered their discontent for the pace of this feature. Rather than offering a lack of contentment, consider the stylized pace distinguished. Here in America, the television age has shifted into the "MTV" style cuts. Almost everything, whether it be dialogue or action is quickly chopped up into little spots over long and progressive scenes. This is fine. Except that the viewer is so accustomed to this style of storytelling that he or she neglects the benefits of long elaborate scenes. Thus referring it as "boring" or "tiresome."
The brilliance of this pace is that the pace itself tells a story. Be wary of blocking out this. If you're patient and allow the structure to unfold, you will be surprised how fortunate one might feel for watching this moving picture.
In The Mood For Love centralizes around writer Chow Mo-wan (Tony Leung, a Cannes Film Festival best actor winner for his role) and fellow apartment neighbor Su Li-zhen (Maggie Cheung). The pair, oddly on the same day, move into the same building with their own respective spouses.
After being settled in for a bit, their absent spouses begin to have an affair. As time progresses, and with little details here and there, Chow and Su Li-zhen add up the factors. The truth inflicts pain and sorry, but the outcome brings a new mutual affection between the two.
They will laugh, cry, and even fall in love again. But their journey becomes full of finite possibilities as well as irresponsibility. The two even vow to never be like their counterparts. Will they confront their cheating spouses? Or continue their own affair safe from public?
Part of The Criterion Collection, In The Mood For Love is a DVD for anytime. a prelude to 2046, this movie is a great launching pad for one of the greatest stories told in cinema visually and orally.
Cool guy(s) - Tony Leung Chiu Wai
Reviewed by: Mike Vu