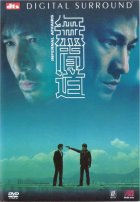 Infernal Affairs
Rating: 6/10
Year: 2002
Genre: Drama
Director: Andrew Lau, Alan Mak
Cast: Andy Lau, Tony Leung, Eric Tsang, Anthony Wong, Chapman To, Kelly Chen, Sammi Cheng
This one is for the ladies!
Superstar Andy Lau and Tony Leung come together for a super psychological thriller that brings suspense all the way to the end. When the two come together, an earthquake is about to errupt.
A cop goes undercover as a gangster. Simultaneously, a gangster infiltrates the police force pretending to be a cop. The story plays out for ten years and in the mean time there are several cues that may or may not bring out the identities.
The two struggle to meet their bosses deadlines and requests knowing at the same time their identity could be broken. Yet the bosses continue to push until the wall is about fall.
The idea of the two moles is both striking and fresh. However, the film landed on one major problem, predictability. As the movie concentrates on more drama than action, the plot follows one that is too linear.
Not sure about the rest of you, but the film could of been a lot better if there was more bullet swaping action. But hey, there is no problem with what was on the table except that potatoes and meat everyday can be boring sometimes.
One final thing worth noting is the editing. There were some scenes that kind of dragged and brings no significance to the character or the plot. When this happens, you find the ax and chop. If you cannot find the ax, you might find the audience struggling to stay awake.
Even with this in mind, when you have this kind of star power in one film it is certainly worth acknowledging. The two faces and names of Andy Lau and Tony Leung are unanimously under the title of "legend." Take a deep breath ladies.
Cool guy(s) - Andy Lau, Tony Leung
Reviewed by: Mike Vu