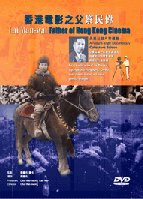 Lai Man Wai - Father of HK Cinema
Rating: 8/10
Year: 2002
Genre: Documentary
Director: Choi Kai-Kwong
Cast: Lai's family, Lai's colleagues
Lai Man-Wai, a name that may be unknown to most general movie-goers in Hong Kong nowadays, was the most important contributor of Chinese cinema. As the pioneer of his time, Lai Man-Wai was the first person to actually make a movie in Hong Kong, he was also the founder of Lianhua, the biggest film production company in Shanghai in the 1930s. It was really a surprise to see that such an prominent figure of Chinese cinema history was often neglected, not only was his name seldom appear in related books, it's also very hard to locate any materials that cover his achievements in details. That's why when I knew that the DVD of this documentary was finally released, I quickly got myself a copy and watched it immediately.
This documentary is divided into five chapters, it covers Lai Man-Wai's life chronologically, including his early days in the revolutionary party, the heyday of Lianhua and his late years. The content is mainly composed of interviews and archival footage/pictures. Living in such a chaotic era, Lai Man-Wai's life was inevitably intertwined with history. In some senses, watching this movie is just like witnessing the contemporary Chinese history itself. What is notable about this regard is that, Lai was the official photographer of Dr. Sun, and he was also the producer of many invaluable documentaries at that time, yeah, most of the footage about Dr. Sun's revolution and WW2 (from Chinese's perspective) was made by this man!! Lai Man-Wai used his life to demonstrate that the meaning of life is not about what you have acquired, but what you have done.
As mentioned above, interviews are the primary ingredient of this movie. The subjects of the interviews include the childen of Lai Man-Wai, his colleagues in the past and several film scholars. The conversations are not very in-depth, nevertheless, it is quite adequate for general audience to have some acquaintance with Lai Man-Wai and his achievements. Among all the interviews, two parts that really move me are the moment when the interviewee talks about the production of Mulan and the last part about his death. According to the movie, Mulan was a landmark production at that time, Lai had spent a lot of money and time on it, however, his effort was ruined because another company made a very crude version of the same story rashly and released the movie right before Mulan came out. Conseuqently, Lai lost four hundred thousands dollars.
Thanks to the offspring of Lai Man-Wai, a great number of valuable still photographs are available for us to see in the movie. Some of these pictures are never exposed to the public before. Accompanied with that is the footage of various old movies like Song of Fishermen, Big Road, New Women and many more. The qualities of the movies are really high at that time, in fact, it is not inappropriate to say that most of the prominent productions in the 1930s were made by Lai Man-Wai and his company Lianhua. The only regret is that the negative of Mulan, the supposed largest production in the 1920s, was probably lost, as only stills are shown in the movie instead of the footage.
Apart from his glorious career and his benevolent personality, what really makes Lai Man-Wai worth our utmost respect is his genuine display of the beauty of human nature. In his mind, public interest was always more important than his own benefit. Individualism did not exist in his library at all. As the movie says at the end, Lai Man-Wai was not only the father of Hong Kong cinema, he was indeed the father of Chinese cinema. If you want to witness the extraordinary and fruitful life of this giant of Chinese cinema, Lai Man Wai - Father of HK Cinema is definitely a must watch!
Reviewed by: Kantorates