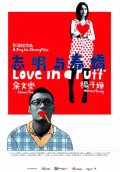 Love in a Puff
Rating: 6/10
Year: 2010
Genre: Drama
Director: Pang Ho-cheung
Cast: Shawn Yue, Miriam Yeung
Love in a Puff is a light-hearted romantic comedy examining typical romantic relationships in Hong Kong nowadays. It starts creatively and ends with a catchy song. However, the film is far from perfect because of several reasons.
First, the story with some witty and authentic dialogue is not flawless. That Cherie leaves her boyfriend whom she has been with for 5 years because of a newly met male friend she fancies simply does not convince me. Her character should at least experience some emotional turmoil when she makes the decision. Also, it is unlikely for her to go to a motel with Jimmy with her luggage. Instead, she should look for a place to settle in first. Apart from this, the twist at the end seems unlikely.
Second, although Miriam Yeung is able to perform naturally, her character is not three dimensional enough to showcase her acting skills. Judging from her character's tone and choice of words, the audience only sees Miriam, instead of Cherie in the movie. Miriam's character should be called Miriam. Moreover, the scene in which she argues with her husband in the bedroom is devoid of tension, which is a solid proof of her average performance.
Third, the use of foul language is slightly over the top. After watching the movie, I cannot help but ask if it is necessary for most characters (a health inspector included) to use foul language so often. It seems to me that the movie is stereotyping smokers as foul-mouthed. By the way, it is interesting to observe that some members of the audience burst into laughter whenever a character uses foul language. In other words, this kind of joke does not work on everybody.
Fourth, the interviews are insignificant and insipid. Indeed, most of the things they talk about in the interviews a re not thought-provoking. Besides, is it necessary to show the boom mic intentionally in every interview?
On the whole, Love in a Puff may, at times, have a subtle insight into romantic relationships in Hong Kong nowadays, whereas it is far from perfect.
Reviewed by: Kenji Chan