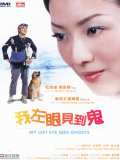 My Left Eye Sees Ghost
Rating: 6/10
Year: 2002
Genre: Comedy
Director: Johnnie To, Wai Ka-Fai
Cast: Lau Ching-Wan, Sammi Cheng, Cherrie Ying, Lam Suet
My Left Eye Sees Ghost is not a horror flick. After the success of The Eye, ghost-seeing has become a popular subject for filmmakers in Hong Kong. Films like Sleeping with the Dead, Visible Secret 2 and this film all contain similar subject matter, there must be at least one character in the films who can see ghost.
May Ho (Sammi Cheng) is a very unlucky woman. Soon after her husband is killed in a scub-diving accident, she has a car accident. After she has recovered, she discovers that her left eye can see ghost, and the first ghost she sees is King-Wai (Lau Ching-Wan), her old time buddy who is dead at his teenage year. The two of them develop a seemingly awkward but intimate relationship. At last, May reveals a secret about King-Wai...
Johnnie To and Wai Ka-Fai are good at making action/gangster films, but their approach to comedy definitely needs refinement. As I have mentioned above, this is not a horror film. It is actually a romantic comedy. Similar to To and Wai's Love on a Diet and Wu Yen, this film relies heavily on dialogues and the gestures of the characters to bring out the humors. Whether the dialogues are funny or not is a very subjective matter, I am sure the gags and humors in this film are not my cup of tea though. For instance, the overacted facial expression and the repeated chasing gag are all too bombastic and insipid. It may be fun to watch Sammi Cheng and Lau Ching-Wan running on the street in the beginning, but if the scene just keeps going on and on, it just doesn't appear funny anymore. The biggest problem of the gag in this film is the wrong calculation of time. The humors derived from a comedy depends on precise timing (In that sense, Charles Chaplin and Buster Keaton are the masters of good timing in gags), it is hard for a gag to work if the duration of a scene is too long or too short.
As a romantic comedy, the romantic part of the film is depicted appropriately. The ending, which I am not going to expose here for sure, is touching and passionate, however, don't expect any tear-jerking element, it is not like Visible Secret 2 in which the love depiction is so emotional and poignant, My Left Eye Sees Ghost is a comedy after all. Even though the subject matter contains love and death, it seems that To and Wai tried hard to position the film as a light-hearted comedy more than a tramautic love story.
Lau Ching-Wan is a prolific actor. He can be a deadly killer (Longest Nite, The); he can be a brilliant cop (Running out of Time); a stupid crook (Fat Choi Spirit), and this time, a ghost with a 13 years old boy's IQ. No matter what roles he plays, he can always make the character believable, it is no wonder why he is regarded as one of the best actors, along with Tony Leung, Francis Ng and Anthony Wong, in Hong Kong now. While for Sammi Cheng, I really couldn't figure out any significant improvement. Just take a look back at her performance in films like Summer Holiday, Needing you or Love on a Diet, you'll notice that she is simply more or less repeating the same level of acting over and over again. Cherrie Ying is appealing as usual, the only thing I don't like is that her voice is dubbed. Other "usual suspects" in To and Wai's films like Lam Suet and the mother character have done a great job as usual.
Not a horror film, not a pure romance, not an excellent comedy. Identical to Johnnie To and Wai Ka-Fai's previous comedies, stars play an important part in the film. Without the presence of the glamorous Lau Ching-Wan and Sammi Cheng, I really couldn't predict how this film would turn out to be.
VCD (HK version) - A full screen transfer and acceptable sound quality. Subtitles are big and easy to read. In short, a moderate VCD production for a moderate film.
Cool guy(s) - Lau Chin-Wan
Reviewed by: Kantorates