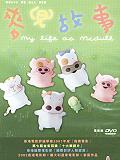 My Life as McDull
Rating: 7/10
Year: 2001
Genre: Animation
Director: Toe Yuen
Cast: Voice - Sandra Ng, Anthony Wong, Jan Lam
Animation production is never a popular business in Hong Kong. Back in the 1980s, three Old Master Q were produced, which did not gain too much attention from the public. In the mid 1990s, Tsui Hark produced an animated feature A Chinese Ghost Story. It was pretty well received, but still unable to stimulate the growth of the animation industry drastically. In 2001, Brian Tse animated his highly successful comic series The Story of McMug and released My Life as McDull.
This film does not have a very strong narrative structure. As the title suggests, it is mainly about the life of the protagonist, a little piggie called McDull. The film is like a rough autobiography of this character. It begins with the birth of McDull and ends when McDull finally becomes an adult.
Before you compare this film with any Hayao Miyazaki or Disney animated productions and severely criticize the quality of the animation, I want to disclose some factual information I got about this film. The entire crew involved in this animation consists of about twelve persons only (yes! No more no less), and most of them are not veteran animators. The budget is very tight. Now you know why it is meaningless to do such a comparison. It is already a miracle that they were able to finish the film properly and release it. Having said that, I actually thought the quality of the animation is not that bad. The combination of 2D characters with the 3D settings fits well together, it inherits the style of the comic appropriately. One of the most successful elements of the comic version is its originality, by that I mean the drawing style and the narrative. In this regard, the animated feature does capture its spirit outstandingly. The setting is not any imaginary world, it is a very concrete and realistic portrayal of Hong Kong.
Many people think My Life as McDull is for kids only, I seriously doubt that. McDull and his friends are cute and their encounters are funny, but it is not all. If you take a closer look, you will notice that McDull's life is in fact a big failure. The producer of this film Brian Tse has a much higher ambition. The metaphorical message behind the story is heavier and more profound than we expected. Although the encounters of the characters seem to be banal (and little tramautic), the implication behind is quite clear - There is no dream at all, in order to survive in this harshly world, you either conform to it or become an outcast. It is really a very sarcastic remark. Animation is usually made for kids to satisfy their fantasy and dreams, but this film is totally a deviation. Instead of promoting dreams, it suggests to people that fantasy does not exist. In the end, the transformation of McDull from a cartoon character to a human being affirms this theme. There is no way for McDull to survive in an imaginary world, the only means for him to get through is to transform himself into a real human being in a realistic world.
The dubbing is very nice. What is good about it is that the producer is able to recruit a kid to dub McDull's voice. The tone or the pitch of a kid is very different from that of an adult, no matter how hard one tries to imitate, it is almost impossible to recreate that natural innocence of kids' voice. Anthony Wong's talent for dubbing is also demonstrated in this film.
Apparently, the development of animation production in Hong Kong is still immature. My Life as McDull needs refinement for sure. It is not too long (only about 70 minutes) and it has a loosely edited narrative structure. Nevertheless, it is still a big achievement in Hong Kong animation history. Now I am eagerly waiting for more animations coming out from Hong Kong in the future.
VCD (HK version) - Because of the length, this is a single VCD package. This film contains heavy use of voice-over narrations and dialogues, if you don't speak Cantonese, it is sometimes hard to follow the lines.
Cool guy(s) - Anthony Wong
Reviewed by: Kantorates