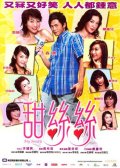 My Sweetie
Rating: 4/10
Year: 2004
Genre: Comedy
Director: Yip Lim-sum
Cast: Sammy Leung, Stephy Tang, Gaile Lok, Crystal Tin, Ella Koon
We all know that Hong Kong cinema is suffering from recession. Employment of new talents, both on stage and behind the scene, are necessary to rejuvenate the market. However, if every movie made by new director and new actors is just like My Sweetie, I really couldn't imagine how Hong Kong cinema is able to regain the glories it used to enjoy.
Both the director and the main cast are fresh new face. Director Yip Lim-sum started his career as a movie critics, and then gradually turned to the production field writing screenplay. Some of his works include the notorious Super Model, Anna in Kungfu-Land and highly successful comedy like Men Suddenly in Black, and more arthouse-oriented film Leaving in Sorrow. Since the range of his works is quite wide, and that the quality of the movie is usually not the sheer responsibility of the screenwriter, it is not easy to evaluate his ability based on those movies. Therefore, My Sweetie does provide the opportunity for us to do such an initial evaluation. The three main actors, Sammy Leung, Stephy Tang and Gaile Lok, are also all fledglings, with Gaile giving her feature debut. The rest of the cast are mainly new pop singers including Ella Koon, Kary Ng, Emma Wong and Yan Ng.
Similar to most of the recent domestic light-hearted comedies, My Sweetie offers nothing new and merely repeats the same old formula of a highly expected triangular love relationship. Most of the scenes take place in the office, which is not a bad idea for a first time director. As a matter of fact, technically speaking, the direction of Yip Lim-sum is quite efficient. Everthing seems to fall right on the track, but somehow, it is just never able to deliver the same surprise as other first timers like Pang Ho-cheung with his debut "You Shoot, I Shoot do.
While the direction is efficient, there are nevertheless some problems that hinder the movie from being successful. First is the non-funny gags that resemble what Yip has written for comedies like Super Model and Anna in Kungfu-Land. Basically, the first half of the movie is filled with these supposedly funny but insipid comical scenes. Perhaps the humors are not presented in such a forced manner as Super Model, there are just rarely any moments that are genuinely funny. In addition, most of these scenes are simply bits and bits of fragments. It is actually possible to re-edit the movies, taking out or plugging in some of them, without affecting the story at all. In the second half, the love theme gradually turns up, and it is supported by a reluctant "hair-washing" theory. The idea of paralleling love to hair-washing is no doubt quite innovative, but the script is inadequate to back it up and expand it to make the romance and the ending convincing.
Sammy Leung's second lead role (he first got a lead role in Matt Chow's United We Stand, and Swim in 2001) is better than expected. Having starred in quite a lot of comedies, he certainly knows the knack of comedy acting well. On the other hand, his performance just seems to fall short a bit whenever the romance comes and a more emotional portrayal is required. Female lead Stephy Tang has been in several movies before, but until now, unfortunately, she still cannot grasp the proper approach to act. The rest of the amateurs like Gaile Lok, Ella Koon and Kary Ng are all totally inexperienced. They simply rely on their charisma instead of any acting skill to impress the audience.
As an avid supporter of Hong Kong cinema, I am never tired of introducing Hong Kong movies to my friends. But if every new movie is like My Sweetie, I just don't know how I can introduce it without embarrassing myself.
Reviewed by: Kantorates