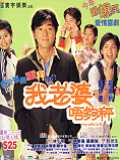 My Wife is 18
Rating: 6/10
Year: 2002
Genre: Comedy
Director: James Yuen
Cast: Ekin Cheng, Charlene Choi, Benice Liu, Patrick Tang
James Yuen is famous of his whimsical light-hearted romantic comedy. Films like Your Place or Mine and Every Dog has His Date are all about awkward love relationships that seem to be a misfit at the beginning, while romances gradually kindle on the way. Therefore, it is really not a surprise to see him come up with the idea of My Wife is 18.
Some people tend to think that the plot of this film is too irrational, but if you compared it to Yuen's previous film Every Dog has His Date, you'll feel that it is not that crazy indeed. Actually, Yuen has already played around with this kind of love affairs with a young girl and mature man before. In Your Place or Mine, The pairing of Tony Leung and Vivian Hsu very much resembles the pairing of Ekin Cheng and Charlene Choi, especially the age difference. However, unlike Your Place or Mine, My Wife is 18 is not about the love problem of a middle-aged man, the focus is shifted to the younger generation. No matter the pivotal character Yoyo Ma (Charlene Choi) or the teacher (Benice Liu), all of them are very young. It parallels to the trend of the entertainment industry in Hong Kong where the emergence of new talents are getting younger and younger.
Perhaps the influence of Korean films like My Sassy Girl and My Wife is Gangster is really too great, most of the recent Hong Kong films love to feature a plot with a strong female lead and a weak male protagonist. This film is no exception too. All of the female characters are very straightforward and outspoken, while the male characters are either too shy or fairly impotent. For instance, Yoyo Ma is a very active and direct girl, you can easily tell what she is thinking since her emotion is very explicit. If she loves somebody, she will tell the person directly, the same goes if she hates someone; Miss Lee is also a very honest person, once she knows her target, she will go for it no matter what happens. Compared to them, Cheung (Ekin Cheng) is a failure since he does not know what he wants at all until near the end. Other characters like Patrick Tang or the few admirers of Yoyo are also either too shy or helpless. I am wondering what do the male viewers think when they are watching the film?
In terms of the story, the pace of the film is not very fast, nor is there any surprise. Some scenes seem to be too idealistic, especially the encounter of Cheung. Although he is such a weak character, he is, nonetheless, a very lucky man indeed. Not only two beautiful girls fall in love with him, his charm has also successfully attracted a guy! Ekin Cheng is probably influenced by Charlene Choi, his performance is quite energetic in this film. but still, he is not able to usurp the spotlight of Charlene Choi. Choi is the real protagonist and the brightest star who will capture your attention from the beginning to the end of the film. New actress Benice Liu is also very refreshing. The design of her character is so good that you will forget her inexperience.
As a light-hearted romantic comedy, My Wife is 18 is a qualified job. But it is definitely not James Yuen's best effort. Moreover, similar to other "popcorn" no-brainer movies, this film lacks any unforgettable scenes or moments. Perhaps you'll laugh out loud during the film, but you are just left with nothing after the film ends.
Cool guy(s) - Charlene Choi
Reviewed by: Kantorates