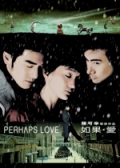 Perhaps Love
Rating: 8/10
Year: 2005
Genre: Musical
Director: Peter Chan
Cast: Takeshi Kaneshiro, Zhou Xun, Jacky Cheung, Eric Tsang, Ji Jin-hee
Peter Chan's Perhaps Love is an intriguing Chinese/Hong Kong/Malaysian backstage musical built around the notion of life as a movie where we constantly edit our memories and that, while we are all the leading players in our personal movie, we're no more than bit parts rather than co-stars in anybody else's and that consequently life is full of abandoned subplots and deleted footage. With the huge amount of mutual crossover between local pop stars and Hong Kong movies, it's surprising there have been so few movie musicals from that part of the world, but they're thin enough on the ground for this to be marketed as the first Chinese musical in 40 years. Only it's not 'really' a musical - like most modern musicals, it tries to disguise the fact it's a musical by setting its drama against the making of a movie musical as Takeshi Kaneshiro has to come to terms with the fact that the great love of his life (Zhao Xun, excellent in a virtual dual role) has completely edited him out of her memory because to her the past is only useful as a reminder of what to get away from. Her present is Jacky Cheung's director with Fellini syndrome (he can't see what he really wants to do with his film), and she's already rewriting that relationship in expectation of a Hollywood deal. Through it all wanders Ji Jin-hee's angelic keeper of discarded footage, an occasional observer rather than an active participant.
Hong Kong's failed official entry for the Best Foreign Film Oscar, it's a lavishly mounted affair, with beautiful photography and great design. There are some visual influences from Jacques Demy (most notably an overhead shot of multi-coloured umbrellas) and more overtly in the circus scenes Moulin Rouge, although thankfully the musical numbers are much better shot than Luhrman's effort, and without resorting to excessive ADDS editing. Peter Kam's songs may occasionally sound a little odd to Western ears (although the HK DVD thankfully subtitles the lyrics, a rarity in musicals), but they're surprisingly impressive and memorable, and for the most part well-served by the cast. Kaneshiro may have the face of an angel but he also has the singing voice of Lee Marvin, although since his songs aren't written for a trained voice that's not a major problem. However, Jacky Cheung is quite a revelation to anyone only aware of his work as an actor - not only does he have the strongest voice among the cast, but its the one that puts the real emotional power into his numbers. Its appeal to Western audiences is probably limited to fans of Wong Kar-Wei's brand of morally compromised romanticism, although this is not as exhilarating or daring as the best of Wong, it has more than enough imagination and emotional resonance of its own to make it well worth checking out.
Extras on the 2-disc special edition are making of documentary, 2 Bollywood Dancers clips, 2 music montages, B-roll footage, teaser trailer and full theatrical trailer - all in unsubtitled Chinese. The feature has good English subtitles.
Reviewed by: Kelly Kelley