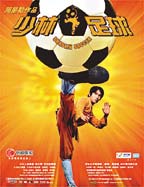 Shaolin Soccer
Rating: 8/10
Year: 2001
Genre: Comedy
Director: Stephen Chiau
Cast: Stephen Chiau, Vicky Zhao, Ng Mang-Tat, Wong Yat-Fei, Patrick Tse
Without doubt, Shaolin Soccer is the most popular film in Hong Kong in 2001. It is welcome by both the critics and general audience. Stephen Chiau, once again, proves that he is still the most influential and prominent filmmaker/actor in Hong Kong.
Sing (Stephen Chiau) is a zealous Shaolin disciple who is always trying his best to promote Shaolin Kung Fu, but he is ignored by the public. One day, he comes across a retired soccer player Fung (Mang-Tat Ng) and is inspired by him. With the help of his friends, Sing forms a soccer team and participates in the National tournament. He wishes to tell everyone that Kung Fu can be applied to any aspect of life by winning the tournament. His biggest opponent ahead is the Devil Team led by Hung (Patrick Tse).
Stephen Chiau is always full of creative ideas. In A Chinese Odyssey, he successfully reinvented the image of the traditional Monkey King. In King of Comedy, he created a self-reflexive character and reexamined his career in a semi-autobiographical manner. In this film, the thematic element is his favorite - Kung Fu. Anyone who loves Stephen Chiau should know that Chiau is a number one fan of Bruce Lee. He always loves to show off his "Kung Fu" in his comedies. This time, with Shaolin Soccer, he can finally incorporate his favorite with the plot of the film and play around with it at his own will.
This story of this film is quite meaningful, it is not only funny, it does contain metaphors which might not be understandable to Western audience. Through the harsh encounter of Sing in the film, Chiau encourages people to strive for their hope under extreme bad condition. It parallels to the depressing reality where people are facing a bad time after the financial crisis in Asia a few years ago. The positive attitude toward difficult reality promoted by this film creates a spiritual encouragement and it explains why the film is easily accepted by the general public in Hong Kong.
I am sure anyone would be startled by Shaolin Soccer's fantastic special effects. In this film, Chiau combines the latest computer special effects with the soccer story brilliantly without a flaw. The computer graphic in this film is even better than the acclaimed Storm Riders. I don't know how to describe how good it is, in short, you have to see it yourself to enjoy it!
In terms of the cast, everyone is excellent. Chiau loves to cast new actors. As usual, there are several new faces in this film. The most impressive one is probably the Bruce Lee look-alike K. K. Chan. He is regarded as the best imitator of Bruce Lee in the last twenty years. Most of the new actors in this film become popular afterwards. Vicky Zhao, the lead actress of this film, does not share too much appearance, which makes me disappointed. Anyway, I think her character still has strong potential to develop. I am eagerly waiting for the sequel.
In short, if you only see one Asian film a year, this is definitely the one you should pick.
DVD (HK version) - I heard that this DVD is out of print now, I wish it will be back in stock soon, because it is really a must have for all Hong Kong movie lovers. The picture and sound qualities are excellent, it has a decent 16x9 widescreen transfer, together with the dts sound effect, it is really a pleasure to see the movie! For the subtitles, I would say that the quality of the English subtitle is not that good, there are some grammatical mistake, however, in general, it is still comprehensible. The extra materials are with optional subtitles, it is really nice for those who don't speak Cantonese. One thing I dont' like about this DVD is that even if you choose to play the extended version on the menu, you have to click the "enter" button when you see a white logo on the screen in order to play the extended scene. I am not sure why they have to do this, since they already have another option "on air" on the menu that plays the original version. It's quite a clumspy design. It is just a minor flaw though. In conclusion, with all the special features and decent picture/sound transfer, this DVD is a must have for every Stephen Chiau and even HK movies fans!
Cool guy(s) - Stephen Chiau and all his teammates
Reviewed by: Kantorates