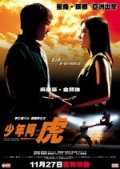 Star Runner
Rating: 6/10
Year: 2003
Genre: Action
Director: Daniel Lee
Cast: Vanness Wu, Kim Hyun-ju, Shaun Tam, Andy On, Max Mok, Chin Kar-lok
Before Star Runner was released, many people wondered if it's the prequel of director Daniel Lee's A Fighter's Blue (starring Andy Lau). It is because the Chinese title of this movie is literally translated as Ah-Fu the Youth, which is strikingly similar to the Chinese title of A Fighter's Blues - Ah Fu. The truth is, apart from the fact that both were written and directed by Daniel Lee and both feature a story of a kick boxer, they are two totally different movies.
To most of the teenage audience in Hong Kong, whether this is a prequel of A Fighter's Blue or not is certainly not a big deal, what is most important to them, and is also considered the biggest selling point by the distributor, is that this movie marks the film debut of the ultra popular taiwanese pop group F4's member Vanness Wu. Together with another Korean pop idol Kim Hyun-ju, the cast is indeed the catcher of the spotlight. Just as expected, the story offers nothing new compared to the glamorous idols. Bong (Vanness Wu) is a college student struggling to be a successful boxer, and his ultimate enemy is New Zealand champion Tank (Andy On). While he is actively pursuing his dream, his goddess Kim (Kim Hyun-ju) enters his life at the same time and the two begin to develop an intimate relationship...
As some may know, director Daniel Lee started off his film career as an art director, and he is also a good painter. Therefore, you could expect some careful aesthetic consideration, and quality camera work as well as exquisite composition are guaranteed. Most of the scenes are well choreographed, especially the final duel between Bong and Tank. This fierce battle draws the audience successfully with its subtle editing and the institution of a desperate atmosphere. However, similar to many art director or cinemtographer-turned director, Lee's storytelling technique is rather dry and insipid. The first encounter of Bong and Kim, in which Bong fights off the gangster for Kim, is totally cliche-ridden. It is neither impressive nor romantic at all. In fact, the love relationship between Bong and Kim is never fully developed. How they fall in love is totally unconvincing as there is simply no drama or conflict between the two. From a commercial standpoint, it is not hard to understand why Lee would want to add this romance sub-plot, but for the sake of the movie itself, I guess most audience would rather want to see more of Bong's training journey, or even a little more depiction of his antagonist Tank than this highly pretentious love affair.
Is pop idol really a critical element for the success of a movie? The failure of Hidden Track seems to prove to us that it is not always true. Even Jay Chou, who is as popular as F4, could not save that movie from failing at the box office. On the other hand, it also reminds the distributor that movie audience and pop music fans are two group of consumers. But the star image of Jay Chou and F4 are quite different, as Chou is more known as a talented musician, and F4 is primarily an idol group, so it is hard to say whether Wu's participation would actually boost the ticket sales at this point. Referring back to Wu, his image, with long hair and a rather lighter skin tone, was quite feminine when the group first came out, so it was quite a surprise to most people when he was casted as the boxer in the beginning. Even though he has cut his hair short, he still seems less capable for this role, especially when he is compared to the muscular Andy On. On, having appeared in two big flops of the year Black Mask 2 and Looking for Mr. Perfect, finally got a role that allows him to exhibit his talent confidently. Korean star Kim Hyun-ju is best known for her TV dramas. Casting her in a movie is a indeed wise choice, as I believe Korean audience would also have a big appetite to see her on the big screen in addition to the local fans in Hong Kong. However, with an extremely weak role, there is nothing much you could expect from her.
To make it short, if you are expecting some intense drama, Star Runner would not be your choice; On the other hand, from the point of view of a casual movie-goer who is looking for some decent action choreography, it is safe to say that this pop-corn action flick does serve its purpose well.
Cool guy(s) - Andy On, Max Mok
Reviewed by: Kantorates