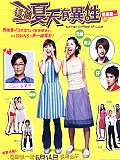 Summer Breeze of Love
Rating: 8/10
Year: 2002
Genre: Comedy
Director: Joe Ma
Cast: Charlene Choi, Gillian Chung, Dave Wong, Tsui Tin-Yau, Hui Shiu-Hung, Roy Chow
Twins is finally in a movie! We have Charlene in Heroes in Love and Funeral March, and Gillian in U-Man, but they never made a debut as a group in a film before. This time, thanks to director Joe Ma who brought them together in Summer Breeze of Love, Twins finally made their official debut in film.
Having actors like Twins, Shine and Roy Chow packed together in a film, a light-hearted comedy is not quite a surprise. The plot generally follows the successful formula of Love Undercover and Dummy Mommy, Without a Baby. Kei-Kei (Charlene Choi) and Kammy (Gillian Chung) are high school graduates. During their summer vacation, Charlene comes across a basketball player Fung (Tsui Tin Yau) and has a crush on him immediately, while Kammy develops a slow-paced relationship with Danny (Dave Wong), an old classmate of Kei's father Louis (Hui Shiu Hung)...
Joe Ma always casts top idols in his film. In Love Undercover and Dummy Mommy, Without a Baby, he successfully reinvented the star image of Miriam Yeung and pushed her potential to extreme; in this film, Charlene and Gillian are employed wisely. Ma did not focus on exploiting the stardom effect but actually assigned appropriate roles and scenes to them for the sake of the story. He is good at portraying minor details of the characters' behaviors. Through carefully arranged scenes and dialogues of the characters, this film succeeds in capturing the feeling of puppy love loyally. As opposed to the highly exaggerated and bombastic depiction of love affairs in some recent romantic comedies likeThe Irresistible Piggies and Women From Mars, Summer Breeze of Love is a much more genuine reflection of the next generation's love culture, and it is what makes Joe Ma's films always look better and more intimate to the audience in Hong Kong that is mostly composed of teenagers and young people, since they can actually resonate with the characters in these films.
The essence of this film is the characters design. Among all the characters in the film, Dave Wong as the boring middle-aged salesman Danny is extraordinary. In the past, Wong was famous of his role as "long ji" (a mix of playboy and wanderer) in many films, he always played these cool characters who do not speak much and drive a motor bike. It is the first time he totally gives up his predefined image and transforms as a different person. This regeneration proves to be rewarding. His performance is surprisingly good. His range and acting ability are far wider and deeper than many people thought. When I was watching the film, I was like, is it really Dave Wong? Charlene Choi and Gillian Chung have done a nice job as well. Gillian's improvement is notable. The gesture and the pace are handled properly. Compared to Twins, Tsui Tin Yau (Shine)'s acting is really terrible. The way he speaks the lines is like reading a book, there is no rhythm and no emotions at all. What is more funny is that, he only has one facial expression throughout the film, even though he is supposed to play a playboy character who is good at double talk and is admired by many girls.
As an idol-based romantic comedy, Summer Breeze of Love is much better than I expected. Wong Jing or Peter Chan is no longer the icon of romantic comedy in Hong Kong anymore. The emergence of Joe Ma and his romantic comedies have gradually set up the new standard for this genre.
VCD (HK version) - Avoid this VCD version released by Taiseng. The image quality is extremely bad. It is a full screen transfer. I don't know why, everything appears jagged and blurry as if it is transferred from a low quality VCR. The sound is ok though. There is a short "making of" documentary at the end of disc 2, it consists of interviews mainly. As usual, the special feature has no subtitles. It might not be a very good film that is worth a slot in your DVD collection, but if you want to see it, get the DVD version or you'll regret for sure!
Cool guy(s) - Dave Wong, Gillian Chung, Charlene Choi
Reviewed by: Kantorates