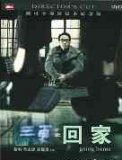 Three - Going Home
Rating: 8/10
Year: 2002
Genre: Horror
Director: Peter Chan
Cast: Leon Lai, Eric Tsang, Eugenia Yuan
Going Home is not a brand new production, it is the extended version of the short story directed by Peter Chan in Three. Chan extracted Going Home from Three, added about five minutes of footage and released the movie for a theatrical run at the end of the year. It is said that Peter Chan was very satisfied with Leon Lai's outstanding performance, that he didn't want Lai to miss the opportunity to be nominated for best actor at the Golden Horse Award Ceremony and Hong Kong Film Academy Award Ceremony. Going Home was therefore released separately from Three as a result.
The story starts off with Wai (Eric Tsang) and his son moving in an old building. There they meet Fai (Leon Lai), the only tenant still living in the building. One day, Wai's son disappears, Wai looks for him and he discovers that Fai is keeping a dead body in his apartment... One must ask, how is it different from the original version? The addition is not very critical. Apparently, the extended portion doesn't affect the premise of the story at all. It seems that Peter Chan is quite satisfied with the original version, especially the part with Leon Lai and his wife, most of the addition is rather allotted to the relationship between Eric Tsang and his son. Unexplained scenes in the original, for instance, the photograph taking scene, are still left unresolved.
As I have mentioned about, the addition is mainly about Eric Tsang and his son. Their relationship looks much more intimate with the insertion of several scenes depicting their daily life. In the scene when they are eating at a restaurant, a few dialogues are added, when Wai's son asks him why he is wearing a broken watch, Wai tells him that the watch is related to his wife and he believes that the watch will work again in the future. This dialogue, in some scenes, connect Wai and Fai together. Wai's passion to her wife parallels to Fai's love to Hai (Eugenia Yuan). Both of them are actually the same type of people, they love their wife so much that they are both waiting for a miracle to happen. The only difference is that Fai is more active in making his dream comes true, while Wai is just waiting passively.
If you view this story from a broader perspective, you will notice that it is not merely a story about eternal love, there is in fact a hidden message behind. Try to think what causes the tragedy of Fai at the end. Is Fai really crazy? From the cue in the movie, it seems not. The one who breaks Fai's heart is not the car, it is indeed the police. Why? Because they do not believe that Fai will bring her wife back alive. Why don't they believe? It is because Hong Kong is always a city of no dream. Most people are not receptive and do not believe in dreams or miracle! It seems that Peter Chan wanted to remind us the importance of having a dream. To a certain extent, the decline of the film market in Hong Kong is partly due to the lack of creative talents. If we want to revive our film market, we need to refresh ourselves and bring our dream back alive!
This special edition of Going Home DVD is well made. Although the overall quality is still not comparable to Japanese and Korean DVDs, it is already top notch among most DVDs produced in Hong Kong. Special features include audio commentary (in Cantonese) and a brief making of featurette. This documentary contains some short interviews with the directors of Three. Yes, all three directors of the three shorts are covered, and the good thing is that removable subtitles are available!
Cool guy(s) - Leon Lai, Eric Tsang
Reviewed by: Kantorates