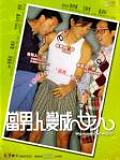 Women From Mars
Rating: 3/10
Year: 2002
Genre: Comedy
Director: Andrew Lau, Yip Wai-Man
Cast: Ekin Cheng, Michael Wong, Cheung Tat-Ming, Chu Ying, Louis Koo, Shu Qi
Women From Mars is absolutely one of the worst films of the year. Although the filmmakers are able to employ an all star cast, including Ekin Cheng, Michael Wong, Cheung Tat-Ming, Louis Koo and Shu Qi, it is still unable to save the film from being a total failure.
At first glance, the plot of this film is quite interesting. Tom (Ekin Cheng), Fei (Michael Wong) and Bo (Cheung Tat-Ming) are the worst womanizers. They do not respect women at all. One day, they are sent to hell by the grim reapers (Louis Koo and Shu Qi). The grim reapers punish them by taking their penis away and sending them back to life. They have to confess to their real love in order to revert back to their male status. Sounds amusing, right? I thought so in the beginning too. But the miserable fact is, the production company has found the wrong persons to write the script and direct the film.
Andrew Lau is good at directing special effects scenes, but he is obviously not a good storyteller. In most of his sci-fi flicks, he always fails to depict the love relationship between the protagonists in an honest and passionate manner. The superficial portrayal of the characters' emotions lacks depth. Unluckily, this problem persists in Women From Mars. Even though it is a co-directing effort, it seems that Andrew Lau does have a stronger influence than Yip Wai-Man in terms of the entire narrative and script writing process. This is a romantic comedy, but throughout the film, there is no romance generated by the three pairs of protagonists at all. There is no concrete evolution of the psychological state before and after the three guys lose their penis. It is obvious that the filmmakers failed to do enough research for the story, the prearranged humors after the three men become women are crude and ostensible. I really couldn't dig out any fun from it.
The script of this film is horrible. The excessive use of voice-over narrations and overwhelming on-the-nose dialogues really turn me down. The filmmakers probably forget that film is a visual medium. A good film always relies on images instead of lengthy dialogues to tell a story. Apparently, the scriptwriter wants to teach us a lesson from this story, that is, a man should respect and value the love of a woman. However, the poor presentation of the story makes this lesson unconvincing, and the result is a great diminution of its redeeming value.
Ekin Cheng, Michael Wong and Tat Ming Cheung probably didn't spend too much time to prepare and rehearse for this film. Their performances just give me a stronger sense of improvisation. On the other hand, the cameos of Louis Koo and Shu Qi as the grim reapers are much more entertaining, it would be great if their roles could be expanded a little bit.
I don't understand why every romantic comedy from Hong Kong must star at least 2 pairs of lovers. Why can't there be only one single pair (e.g. My Sassy Girl)? An intensive delineation of one pair of lover can be interesting and fruitful too.
If your only objective is to see a lot of stars in a movie, or if you are a big fan of Ekin Cheng, this film is probably your cup of tea. Otherwise, simply forget it. There are many romantic comedies out there, be smart and spend your money wisely on a better one.
VCD (HK version) - No VCD no DVD. Heed my advice, avoid this film...
Reviewed by: Kantorates