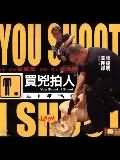 You Shoot I Shoot
Rating: 8/10
Year: 2001
Genre: Comedy
Director: Edmond Pang
Cast: Eric Kot, Cheung Tat-Ming, Asuka Higuchi, Audrey Fang, Michael Chan, Jim Chim
Edmond Pang, the writer of Fulltime Killer, finally directed his first film in 2001. The film is called You Shoot I Shoot. It features two excellent comedians in Hong Kong - Eric Kot and Cheung Tat-Ming. If one has seen Fulltime Killer, it should not be too hard to expect how far Pang is willing to push in his own film. His creativity is allowed to be fully exhibited.
The story is about Bart (Eric Kot), a hitman, who hires a cameraman Chuen (Cheung Tat-Ming) to shoot when he kills. After they get the killing footage, Chuen will do the editing work and make a short film out of it. The two team up and work for rich people who hire them to kill and shoot.
Just from reading this brief synopsis, one should realize how humorous and innovative this story can go. Pang, without disappointing the audience, turns the story into a big farce. He makes a parody of the French classic La Samourai and mocks the absurdity of the society in a funny way. Bart is an admirer of Le Samourai, he always imitates Le Samourai and dresses like Alain Delon in the film. Yet, unlike the lonely Le Samourai, he has a family. No matter how cool he acts, he cannot resist the request of his wife. A hitman living with his wife! You can see how humors are generated from this absurd construction of the characters. The antagonist, Two Pistols Hung (Jim Chim), is not the typical villain you'll see in other comedies. I am not going to disclose too much about this character since it will spoil the fun of watching. All I can say is that the ending is not a cliche.
The theme of this film is similar to Shaolin Soccer in which it encourages people to strive for their hope under extreme bad condition. Even though cameraman Chuen has lost his job and failed to make his dream comes true, he does not give up. Rather than sitting at home and blaming the society, he just keeps on working on his own and conceiving ideas. His "Never say die" spirit is really inspiring for the audience in Hong Kong who are suffering from the economic recession. The positive attitude toward difficult reality promoted by the film creates a spiritual encouragement and it explains why the film is accepted postively in Hong Kong even though it has a negative subject of murdering people.
As a first time effort (Yes, Edmon Pang has not directed anything before prior to this film), You Shoot I Shoot is definitely a big surprise. It is really sad to know that this film failed at the box office, even though it was highly praised by critics. The taste of Hong Kong audience is always unpredictable. I really don't know how to explain why mediocre comedies like Needing You could become the highest grossed film of the year, and high quality ones like You Shoot I Shoot fails to win the respect it deserves. Without doubt, it is one of the most underrated movies of the year.
VCD (HK version) - A nice film deserves a space in your DVD collection.
Cool guy(s) - Eric Kot
Reviewed by: Kantorates