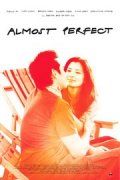 Almost Perfect
Rating: 5/10
Year: 2011
Genre: Comedy
Director: Bertha Bay-Sa Pan
Cast: Kelly Hu, Ivan Shaw, Edison Chen, Tina Chen, Roger Rees
There are movies about Asian Americans, and there are movies featuring Asian Americans. Bertha Bay-Sa Pan's Almost Perfect certainly belongs to the latter group. Similar to the centerpiece presentation at last year's San Francisco International Asian American Film Festival The People I've slept with (dir: Quentin Lee), Pan's latest romantic comedy vividly depicts the dilemma and struggle of a typical work class Asian American woman.
The ever gorgeous Kelly Hu is Vanessa, a 34 year-old non-profit office administrator. She has a steady job, some friendly and supportive co-workers, and two close siblings. At first glance, everything seems to be perfect. However, when the story unfolds, we begin to learn more about her dysfunctional family. A father who is barred from home, a mother who is seriously bugged by her failed marriage, a sister who seems to care nothing but her fashion career, and a brother who is running away from his wife. Everyone is looking for shelter from Vanessa.
What makes it more complicated is that, during this turbulent moment of life, Vanessa gets to reunion with her old time buddy Dwayne (Ivan Shaw), a supposedly perfect match, or "almost perfect" guy she is always looking for. The two soon develops a close relationship. However, her family members are always involved when she is trying to have some valuable time with Dwayne. Vanessa then realizes that in order for her relationship with Dwayne to blossom, she has to solve her family disorder first, and during this process, she begins to figure that it is not just her family members are having problems, whenever a family becomes dysfunctional, everyone in the family needs to work together to cope with the difficulties, including herself...
As mentioned above, Almost Perfect is a movie featuring Asian Americans rather than ones about the unique aspect of Asian Americans. While the latter type dominates the realm of Asian American cinema in the late 80s and early 90s, with Wayne Wang and Ang Lee as the pivotal figures, in recent years, Asian American filmmakers have been gradually transforming their subject matter from a survey of their cultural identity (outward) to a more delicate exploration of personal and social life (inward). To them, identity is no longer an issue that concern most, as most of them are already clear of their role in the society, and what it means to be Asian American. Now they feel secured and confident enough to move forward and examine their life and struggle, and this time as part of the mainstream society.
In this sense, Almost Perfect is a moderate study of the social and personal life of a middle-aged woman (well, in Asia women over 30 are tagged as "middle woman", which literally means they're old enough to get married but fail to do so for whatever reason). The story mainly focuses on her family and romantic life, and how these two usually independent social circles (in a Western perspective) intertwine and affect each others more than one can expect. It is a traditional romantic comedy genre and director Bertha Bay-Sa Pan's script offers an interesting insight and sophisticated observation on the struggle of nowadays working class women. As a typical genre product, it doesn't offer much surprise, but should satisfy those looking for some lighted heart laughter in a sunny afternoon. Acting wise, Kelly Hu and Ivan Shaw as the romantic leads work nice, while Edison Chen's supporting role is a good fit as well. Ironically, some of Chen's dialogue does somehow echo what happened to himself in the notorious sex scandal a few years ago.
Almost Perfect was premiered at 2011's San Francisco International Asian American Film Festival and is scheduled for a wider theatrical release soon.
Reviewed by: Kantorates