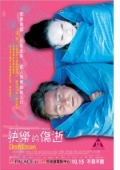 Cherry Blossoms
Rating: 9/10
Year: 2009
Genre: Drama
Director: Doris Dorrie
Cast: Elmar Wepper, Hannelore Elsner, Aya Irizuki, Nadja Uhl
Reflective Ripples in a Whisper
A German director Doris Dorrie's third film in her trilogy on Japan, Cherry Blossoms, is an exquisite, absorbing and deeply moving meditation on life, death, loss, loneliness and grief.
Talking about old parents with alienated and indifferent descendants, the first half of the film may remind the audience of Yasujiro Ozu's film made in 1953, Tokyo Monogatari. The six hugging-or-massage (by family members and strangers) scenes and the father's harmonious relationships with his daughter's girlfriend and a Japanese girl successfully highlight the poor relationship between the father and his children.
The second half in which the main character embarks on a reflective journey in search of traces of the deceased love captures the mood of Lost in Translation and Riding Alone for Thousands of Miles. The cultural shock experienced also makes the film distinguishable from Under the Sand.
Cherry blossoms and Mount Fuji symbolize the fleeting and unpredictable nature of life. The film delivers a message that we should treasure the people around us, pursue our dreams and enjoy life to the full so that we will have no regrets. Besides, it is also about the main character's inability to communicate with not only the dead, but also the living family members. Butoh, a Japanese dance, helps people to feel and establish connections with others. What's more, the audience can pay attention to the symbolic meaning of the drawings at the beginning of the film and the photos at the end.
The cinematographer and the composer also succeed in evoking different tones from several shooting locations in Germany and Japan. The suburbs contrast sharply with the hustle and bustle of city life. Apart from the haunting visual images and the Japanese music playing upon the audience's heartstrings, the characters are so lifelike and well-acted that the audience will care about what happens to them.
On the whole, although Cherry Blossoms is a bit too long, without emotional bludgeoning or syrupy manipulation, it is a sincerely made road movie producing, in a whisper, emotional resonance and reflective ripples.
Reviewed by: Kenji Chan