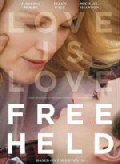 Freeheld
Rating: 8/10
Year: 2015
Genre: Drama
Director: Peter Sollett
Cast: Julianne Moore, Ellen Page, Michael Shannon
Simplicity Speaks Louder than Sentimentality
Based on a true story and a 2008 Academy Award winning short documentary with the same title, Freeheld is a heart-wrenching and uplifting drama about a same-sex couple's relentless pursuit of love, justice and equality.
When a veteran police officer Laurel Hester is diagnosed with terminal cancer, all she wants to do is leave her pension benefits to her life partner, Stacie, so that she can afford to keep their house. Laurel is told no since they are not husband and wife. After spending a lifetime fighting for justice for other people, Laurel launches a final battle for justice for the love of her life.
The story is told in a straightforward manner. The first half of the film focuses on depicting Laurel as a dedicated police officer who dreads her colleagues finding out that she is a lesbian and as an average human being who longs for love and strives to start a family with "a house, a dog and a woman she loves". In a homophobic workplace, LGBTI people have to hide and lie since coming out of the closet makes them targets of bullying and affects their promotion. Apprehensive and timorous, Laurel can never truly be herself. The second half of the film focuses on the couple's brave but bitter fight against not only cancer, but also tradition, prejudice, ignorance and inequality, luckily and touchingly with the help of Laurel's colleague, a gay rights activist, the couple's friends and family members. Although some people criticize the first half of the film for being insipid, the director's refusal to resort to sentimentality is greatly appreciated. Instead of making a tear-jerker with cliches sugar-coating and praising effusively the greatness of homosexual love, the director creates life-like characters the audience care about and shows genuinely the love between Laurel and Stacie, which accurately echos the nature of the global fight for LGBTI rights. It can be summarized by what Laurel says in the movie - "I've never asked for special treatment. I'm only asking for equality." True love is beautiful and precious, be it heterosexual or homosexual.
Religion is a major reason why some government officials say no to Laurel's request. In the movie, a priest reminds us that Jesus himself says nothing about homosexuality in the bible. Most of the proscriptions against homosexuality come from the Old Testament, which does mention homosexuality as an abomination, yet if one had actually read the Bible, one would have noticed that the same book of Leviticus also considers eating shellfish, or wearing clothing of two fabrics, an abomination. Some religious people blindly believe in what their churches advocate and apply double standard. Now, let's assume a particular religion is against homosexuality. Should religion and state be separate? For example, it is well known that Pope John Paul II was against artificial birth control. Should there be a law prohibiting citizens from using condoms? If Buddhists deemed it wrong to kill animals, should the government make eating meat illegal? If homosexuals cannot get married just because it goes against your religion, you cannot have cookies because I'm on diet. It seems that some pious people are not aware of a simple fact that marriage is a legal system which does not belong to a particular religion. While freedom of religion should be totally respected, it is unacceptable to impose religious beliefs on both the legal system and non-believers. Indeed, the overarching theme of the Bible is love. Mother Teresa is right. "If you judge people, you have no time to love them".
The ensemble cast is capable. Julianne Moore and Ellen Page are phenomenal. Their facial expressions and body language can effectively convey the characters' emotions. In the movie, we do not see the actresses. Instead, we see an ailing police officer and a car mechanic truly loving each other and fighting together against cancer and inequality. Michael Shannon also delivers a very convincing performance. His character is a "straight, white, ex-Protestant, atheist cop". The wholehearted support he has given Laurel is sincere and moving. Steve Carell, who plays the gay rights activist, adds comic relief to this knuckle-biting and heartbreaking journey. His performance in Foxcatcher is beyond compare though.
Love is love. LGBTI people "deserve to experience love fully, equally, without shame and without compromise." Like Suffragette, Freeheld is an important film that needs to be seen. Never take human rights for granted. Let's speak out against injustice courageously, in the name of love.
Reviewed by: Kenji Chan