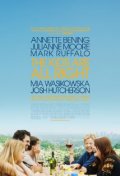 Kids Are All Right, The
Rating: 7/10
Year: 2010
Genre: Drama
Director: Lisa Cholodenko
Cast: Annette Bening, Julianne Moore
Let's Define a Family
The Kids Are All Right is a humorous and heartwarming drama with a terrific ensemble cast and memorable characters. The movie talks about family problems and the definition of a family.
The movie delivers a message that straight families and gay families are no different and they should be treated on an equal footing. First, marriage is hard, be it straight or gay. Their kids are as rebellious as the ones in straight families. Second, the kids can still grow up healthily in a gay family. Third, the kids treat their lesbian mums as their beloved family members, despite their sexual orientation and the intrusion of their biological father, because it is the two women who raise them and under no circumstances can the biological father replace the mums. Hence, a family should not be defined as a social group made up of a man, a woman and their children. Instead, it should be defined as a group of persons, the adult members of which assume responsibility for caring for children and loving them unconditionally.
Despite the politically correct message, the film has some flaws. First, the problem is resolved too easily at the end. Second, (spoiler warning) that Jules does not even spend a minute c onsidering developing a formal relationship with Paul is not convincing. After all, Jules enjoys having sex with Paul (She is probably a bisexual). He is not only a biological father who gets along with her kids, but also the owner of a restaurant. What's more, their marriage has reached crisis point. Nic is not only a control freak, but also an alcoholic.
At the end of the movie, their love to each other in a family can be deeply felt. The ending is so touching that some members of the audience will be moved to tears. Despite growing up in a gay family, the kids are all right.
Reviewed by: Kenji Chan