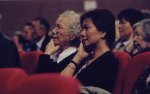 Moment in Time, A
Rating: 7/10
Year: 2009
Genre: Documentary
Director: Ruby Yang
Cast: Amy Chung, Irene Dea Collier, Larry Chin, Philip Choy, Christopher Doyle, John Woo
After capturing the Academy Award for her sympathetic documentary The Blood of Yingzhou District last year, veteran Chinese filmmaker Ruby Yang is back with another affectionate documentary short A Moment in Time. This time, it is about the Chinese theaters of San Francisco, a subject that is much more intimate and familiar to Asian American audience.
San Francisco, known as the biggest hub or habitat for early Chinese immigrants, still remains as one of the metropolises in the US with the most Chinese population now. Back in the early twentieth century, the life of Chinese immigrants was painstaking and difficult. Apart from working at mines or other lower class professions, they didn't have much entertainment. The establishment of Chinese theaters therefore became a stronghold for healing their nostalgia. Take one look at director Ruby Yang's biography: She first immigrated to the US in the late 70s, lived in San Francisco for more than twenty years, and later was married to Lambert Yam, a pioneer in distributing and exhibiting Asian films in North America as well as an experienced theater businessman in charge of a theater chain specialized in Asian cinema in the US and Canada. One should realize that if there is ever a documentary on Chinese theaters in San Francisco, Yang, a long time San Francisco resident, a Chinese immigrant from Hong Kong, and the wife of an Asian cinema theater giant, should be without doubt the perfect candidate to direct.
However, with a topic on Chinese theaters in San Francisco, to the viewers' surprise, A Moment in Time is actually not a film about the history of these theaters. Even though Yang's husband Lambert Yam is the pioneer of Chinese theaters in the US, and should be a good reference for her to gather whatever first hand materials she needs, Yang instead focuses on something else. It seems that the most interesting thing about this subject isn't the theaters or their rise and fall, but the generations of immigrants influenced by them. Through a series of interviews with ordinary people, in which most of them were first or second generation immigrants, the film takes a very emotional and personal approach by inviting its interviewees to share with the audience their movie-going experiences and how these encounters have shaped their cultural identities and enriched their life.
Similar to Yang's previous documentaries, she never shifts her focus away from the core value of human being. In The Blood of Yingzhou District, she stirs up attention and care for kids in China who lost their parents to AIDS; in Tongzhi in Love, she honestly portrays the life and struggle of gay men in China; and in China 21, her camera focuses on four commonplace Chinese families in the most sincere manner. A Moment in Time is no different. It is about minority again, and this time, it is even more intimate than before. As a part of this minority group known as Chinese immigrant, Yang poses brilliant questions for her subjects and receives exchanges and feedbacks from them that successfully and convincingly exhibit great emotional power.
As an audience, as well as a Chinese immigrant myself, it is an enjoyable viewing experience listening to all of these stories and anecdotes from our fellow senior counterparts, yet the rather loose structure of the film is somehow distracting in certain moments. Although there is a roughly chronological timeline that can be followed, which is hinted by the films mentioned, the interviews sometimes seem to be too episodic. In some senses, seeing the film is just like eating a slice of pizza, but it never comes to join together in a big and coherent piece. After seeing the documentary, the audience may just feel like having a relaxed tea time with a few old friends who just shared with you some of their family stories, but nothing contemplative or mind provoking. The choice of interviewees remains another mystery, especially the interviews with Christopher Doyle and John Woo. What the two talk about don't really relate much to the subject matter, and other than making the list of interviewees more glamorous, they just seem to be the biggest misfit in the film.
I have to admit that the history of Chinese theaters in San Francisco is a subject that arouses me much more than the people influenced by them. But then, I respect Ruby Yang's thematic decision and understand the reason why she would like to film her documentary that way. A Moment in Time may not be what everyone expects, but for those who like Yang's The Blood of Yingzhou District and her previous films, this should be an enjoyable "1-hour moment of time" and there is always something one can learn from her films.
A Moment in Time was screened in the Asian Film Festival in Hong Kong last year, and now it is coming to San Francisco, where it all began. If you are interested, do remember to check it out at the San Francisco International Asian American Film Festival in March 2010.
Reviewed by: Kantorates