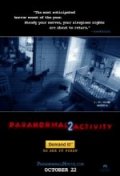 Paranormal Activity 2
Rating: 6/10
Year: 2010
Genre: Drama
Director: Tod Williams
Cast: Katie Featherston
A Rehash Less Scary than the First Film
Paranormal Activity 2 is a low-budget mockumentary rehashing the first installment.
The film is slow-paced in the first hour. Despite the director's attempt to build the tension step by step, the similar images repeatedly shown by the cameras fail to engage the audience. In the last 30 minutes, there are some creepy moments which will give you goose pimples, thanks to the demon's rumble, the dog's growls, the creaks of the door echoing eerily in the house, etc, whereas those who have watched the first film may find the tactics used familiar and the story formulaic.
To make the most out of the film, you should watch Paranormal Activity 1 first because it starts as a prequel and ends with a twist related to the first film. Besides, you should avoid spoilers and watch it in a cinema with as few talky people as possible.
Those who have watched the first film may find Paranormal Activity 2, whose tactics we have already seen, less scary.
Reviewed by: Kenji Chan