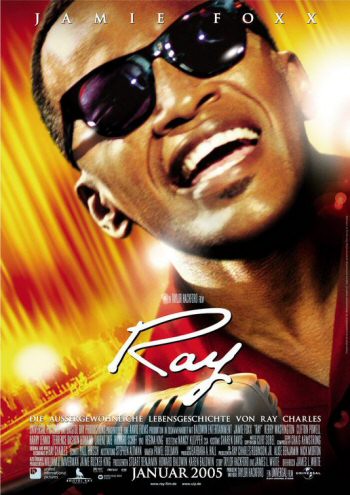 Ray
Rating: 8/10
Year: 2004
Genre: Drama
Director: Taylor Hackford
Cast: Jamie Foxx, Kerry Washington, Regina King
Winner of the two academy awards including Best Actor for Jamie Foxx's astounding performance, Ray is truly a stirring and heartening story of success over misfortune. It is a docudrama, directed by Taylor Hackford, which accentuates the prominent black singer Ray Charles's tortuous life.
Ray Charles, born in the 1940s in Florida, lived in the most poverty-stricken areas, where his mother worked as a sharecropper. At the age of seven, Ray turned blind. Yet, Ray went to Seattle by himself to begin a life in music. Though being discriminated by his disabilities and racial identity, he finally overcame the injustice, and became well-known for his music performance. He even found his way to mix gospel with R&B. Notwithstanding Ray's popularity grew, he started to steeped in martial indiscretion and heroin abuse for years until he realized the danger behind all these. The true life story of legendary singer Ray Charles, from humble beginnings to international prominence, defeating his own struggle and deprivation in drugs and women, had finally tuned into a docudrama in 2004.
Ray offers a fascinating and inspiring commentary on human courage and fragility. The script writers did a good job in portraying the real side of Ray Charles- a well-liked singer, yet alone with flaws just like other human beings. Ray was indeed not flawless; he committed crimes for which he had been sent to jail. Nevertheless, his extraordinary determination and courage to overcome all sorts of different adversities in his life had to be acknowledged. Ray vividly portrays the real Ray Charles in a non-fictional way.
The driving force of the docudrama is actually the music of Ray Charles. It brought us back to the good old times, from ??Mess around to "can't stop loving you" which warm our souls again with the twenty five songs in Ray Charles??real voice. Although the lip synching of Jamie Foxx might not be perfect, the resemblance of the two outweigh any existing flaws found. Just by watching Ray going through the process of becoming a prominent musical innovator is enchanting. The music along with the casting were laudable. Jamie Foxx's uncanny impersonation of Charles' distinctive behavioral trait was incredible. He dressed, smiled, and talked exactly like Ray Charles, as if he is Ray Charles. He also captured the complex blend of charm, selfishness and sorrow that turned Charles into a captivating figure beyond his personal musical revolution. No wonder he is a box-office guarantee. Sharon Warren, who plays Ray's mother, also turned out as a praiseworthy performance.!
Her face and eyes exuded the tenderness, love and affection of a doting mother. The close-up of her face when her eyes were filled with fear and sorrow as her seven years old son, Ray, lose his sight. Warren was also able to convey true human emotions at the black funeral when she mourned widely over her second child, Jordan, with her hands swinging uncontrollably. She created such sentimental scene that touched the audience's heart with pain, turning Ray closer into an emotion-filled docudrama.
However, it is inevitable that all docudramas have flaws within the productions. Ray is no exception. It tried to pack seventy years into 153 minutes, from Ray's childhood to his indulgence in drugs and women, and finally to his success, which caused some inconsistent editing and confusing visuals and footage. The ending was also overly-rushed. The movie explained how Ray got rid of his drug addiction and how he had proclaimed the words of God through R&B in roughly five minutes. Even worse, the sudden ending scenes finished by concluding that Ray turned faithful and clean for the rest of his life. In fact, in 1976, he and his wife divorced bitterly. Furthermore, director Taylor Hackford had added in some fabrications to emphasis his point that Ray cared for the blacks' equality. He distorted history at the part when State of Georgia declared that Ray was banned to ever enter the state for he had not supported racial segregation. Since the truth was that the state of Georgia had never banned ray, therefore it was merely a fabrication of Hackford, which disqualified the movie as a docudrama. On the other hand, Ray, from the riveting plot to the enticing cast team, is a qualified testimony to Ray Charles who has inspired some of today's brightest talented musicians and no doubt his legend will continue to do so.
Overall, 7/10 movie.10/10 casting team.
Reviewed by: Jennifer Wu