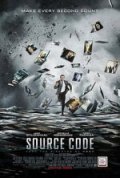 Source Code
Rating: 7/10
Year: 2010
Genre: Action
Director: Duncan Jones
Cast: Jake Gyllenhaal, Vera Farmiga, Michelle Monaghan
Just Lie Back and Enjoy the Thrilling Ride
Director Duncan Jones (Moon) and Jake Gyllenhaal (Brokeback Mountain) draw me to Source Code, a sci-fi thriller about a soldier Colter who wakes up on a train and discovers he's part of a military program that enables him to return to the train as another man in the parallel reality. His mission is to uncover the identity of the terrorist who bombs the train in 8 minutes.
Source Code is a fast-paced, tightly-plotted and gripping movie with adrenaline-pumping suspense, touching moments and surprising twists. Although similar events are shown over and over again, more and more conspiracies, secrets and twists are revealed each time Colter is transported back and forth between the train and the high-tech isolation unit. Thanks to Paul Hirsch's deft editing and the 8-minute time limit which adds urgency to the mission, our attention is held from beginning to end.
What would you do if you knew you only had one minute to live? Christina would make those seconds count and Colter would kiss her again. The message of the movie is that we should make good use of every second of our lives so that we have no regrets. I am touched by Colter's telephone conversation with his Dad and his attempt to save everybody in the last ride.
The movie is not flawless. First, not every idea makes sense when you think back. For instance, where is Sean's soul in the end? Second, the love between Colter and Christina can be further developed. For example, at which moment and why does Colter start to fancy Christina? Besides, Christina may not truly love Colter, which makes the ending less touching. Third, it is unlikely for Goodwin, an army officer, to help Colter. She may risk life imprisonment.
Perhaps it's time to stop thinking too much. Just lie back and enjoy the thrilling ride in which you can enjoy a cocktail of sci-fi, crime and romance.
Reviewed by: Kenji Chan