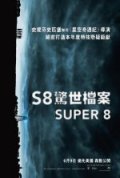 Super 8
Rating: 7/10
Year: 2011
Genre: Sci-fi
Director: J.J. Abrams
Cast: Elle Fanning, Amanda Michalka
Looking at the Adult World through the Children's Eyes
The nostalgic trailer of Super 8 Directed by J. J. Abrams is reminiscent of E.T. and Cloverfield. The movie is a cocktail of sci-fi, comedy, family, romance, friendship, teenage growth, monsters and zombies. If you expect to watch a monster movie, you may be thrilled by the second half but disappointed by the first half as it slightly drags. If you intend to watch a family drama, it may not be a great success as the relationships between the fathers and their kids can be further developed.
What surprises me most is that the children are perfectly cast. Joel Courtney is adorable and Elle Fanning, with her nuanced facial expressions, brings the audience one of the most engaging moments when her character acts as a detective's wife in a train station. While the two leads have a great chemistry, their friends are hilarious. It is also amusing to look at the adult world through the children's eyes. For instance, the kids act as a soldier, a zombie, a boss, etc. There is a thought provoking scene in which a boy's leg is injured because of a bomb explosion while the kids are still in costume and make-up. When the war? becomes real, the kids are forced to grow up hastily. Indeed,Super 8 can be viewed as a coming-of-age comedy.
The movie emphasizes the importance of letting go. Make sure you stick around during the closing credits. This is probably the BEST part of the movie.
Reviewed by: Kenji Chan