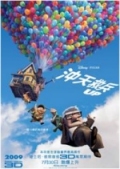 Up
Rating: 7/10
Year: 2009
Genre: Animation
Director: Pete Docter
Cast (Voice): Edward Asner, Christopher Plummer, Jordan Nagai
Up Lets Me Down
Up is a funny adventure with very well rendered and well animated 3D images. It delivers a message that we, irrespective of age, should never forget about dreams and are able to lead meaningful lives. It also sheds some light on the importance of letting go.
However, some ideas are underdeveloped and puzzling. First, the relationship between the old man Carl and the kid Russell is not well-developed enough. Judging from Carl's indifference to Russell's visit, I do not feel his desire to have children after Ellie's death. Simultaneously, Russell's admiration for Carl as his role model can be further developed so that their very good relationship in the last two scenes can be better prepared. For example, what skills has Russell learnt from Carl who used to be an adventurer? After watching the film, some may find the ten-minute Carl-and-Ellie love story much more touching and memorable than the Carl-and-Russell adventure. Second, Carl, who relies on an electric chair to move downstairs and staggers along with a stick, suddenly becomes so strong that he can even climb the ladder with his feet hanging in the air, which does not make any sense even in the created world. Third, it is too easy for them to "float" to Paradise Falls, a mysterious place, without showing Carl's prior knowledge on aviation or science, which not only makes the plot contrived, but also the first-15-mintue adventure less exciting. Fourth, why and how does the bad guy invent a device helping his dogs talk with different languages? Fifth, the bad guy should be much older than Carl and I wonder why he is still alive and looks even younger than Carl. Sixth, why does the dog, a loyal animal, betray the explorer, even when he has the upper hand?
On the whole, Up is interesting, visually stunning and suitable for kids to watch. However, the story and characters can be further developed. Wall-E, with robots who cannot speak, is more touching, while Bolt, a Disney animation, is funnier than this one with hundreds of dogs. Until now, my favorite Pixar film is still Finding Nemo. Toy Story 2 and Wall-E rank the second and the third respectively. The rest of my top five are The Incredibles and Ratatouille. Up, despite using two ordinary human beings as the main characters, lets me DOWN.
Reviewed by: Kenji Chan